Trenholme Family
Trenholme Family in the Grewelthorpe area.
History of the surname Trenholme. Recorded as Trenholm and Trenholme, this is an English surname. It is locational from the village of Trenholme near Stokesley in North Yorkshire. which according to the Oxford Dictionary of English place names, translates as the "the flat lands (holm) where the cranes gather", from the pre 7th century Old Norse word "trani", meaning the crane bird. This seems a reasonable explanation although another possibility is from the Olde English words "trendel-holm" meaning a fort or castle on the flat land. Locational surnames are usually "from" names. That is to say surnames given as easy identification to people after they had left their original homes to move somewhere else. In this case many of the nameholders clearly did not move very far, as the surname is well recorded in the early surviving church registers of the region from the mid 16th century. These recordings include such examples as Edward Thenholme whose daughter Ann was christened at Stokesley on September 8th 1669. and Thomas Trenholm, a witness at the parish church of Stainton in Cleveland on February 7th 1693, whilst somewhat later and two hundred miles away, there is a recording of William Trenholme, whose daughter Margaret was christened at Christ Church Greyfriars, in the city of London, on November 11th 1745.© Copyright: Name Orgin Research www.surnamedb.com 1980 – 2010.

> Letter from John Gaukroger. June 2014. Just had a 3 weeks visit to Canada inc. Trenholme Park, HAMILTON, ONTARIO. I live in Halifax W.Yorks as did our Mother (1900-2003) a 1921 Girton College Cambridge Graduate. Her nephew Michael Trenholme. & wife Jill live in Sale/Hale Cheshire.


The following Information has been taken from Parish records, memorial inscriptions [MI]etc. and is relevant to the Trenholme family in the Grewelthorpe area.
Latest update Jan 2021.


If you can add any information to this page please contact me.



BASIL TRENHOLME. Served in WW2 in Royal Engineers. Son of William Leonard & Frances.
BERNARD TRENHOLME. Born 21 May 1904. Married Miss Freda G.M. Stubbs of Laverton in 1931. see picture below. In 1939 they lived Mill Farm Galphay. In 1949 lived South View, Grewelthorpe.
ELIZABETH TRENHOLME Born C1827 Well. Married James Caygill. Lived Mickley in 1881.
EVELYN KATE TRENHOLME. Dau of W.Trenholme of High Swetton, Kirkby Malzeard. married Fred Cundall Stubbs. of Laverton at St. Peters Dallowgill in January 1955. Sister of Malcolm.
FRANCES TRENHOLME [nee THACKRAY]. Born 8 March 1900. Wife of William Leonard. Mother of Basil, Oscar, Hugh, & Peter. Died 18.11.1947. Grewelthorpe. M.I. See Obit at end.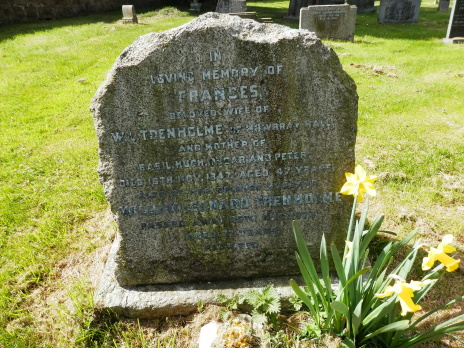 Grave of Frances Trenholme in Grewelthorpe churchyard.


GEORGE TRENHOLME Born C1872 Thirsk. Died 1905. Son of Thomas [innkeeper] & Dorothy Appleton. Married in 1893 to Mary Jane Kidson.
GODFREY TRENHOLME. Born 12 June 1906. Married to Edith. Living Northallerton 1939.
HILARY TRENHOLME [Nee GOSS] Born 1919, Died 2002. Wife of John Oscar Trenholme. Dau.of Rev W.A.R.Goss. Vicar of Grewelthorpe. See Obit. at end.
JAMES HUGH TRENHOLME. Born C. 1925. Died 1.1.1938 of pneumonia. Buried Grewelthorpe. M.I. Son of William Leonard & Frances Thackray.
JANE A.TRENHOLME. Born 11.8.1872. Widow in Northallerton in 1939.
JANE E TRENHOLME [nee?]. Born 29 June 1873. Died 24.10.1950. Grewelthorpe M.I. Wife of John William. Poultry farmer.
JOHN OSCAR TRENHOLME. Born 1926 Son of Wlliam Leonard & Frances Thackray. lived Mowbray Hall, Grewelthorpe. Married Hilary Dinwoodie Goss on Feb 18th 1949. She was the daughter of Rev. W.A.R.Goss. Vicar of Grewelthorpe.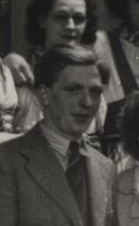 Oscar Trenholme in 1949.


JOHN WILLIAM TRENHOLME. Born 8 Jan.1872. Died 2.9.1954 Grewelthorpe M.I. Husband of Jane E. [Born 1873] Lived Chequers Azerley in 1939. A poultry farmer.
KATHLEEN M TRENHOLME. Born 21 October 1906. Living Pasture House Healey in 1939.
MALCOLM TRENHOLME. Son of W. Trenholme of High Swetton, Kirkby Malzeard. Brother of Evelyn Kate.
MARGARET TRENHOLME Lived High Swetton, Laverton in 1949. Possible wife of Wilfred.
THOMAS TRENHOLME Born C1834 Thirsk. Married in 1858 to Dorothy Appleton. In 1885. Landlord of the Duke of Wellington Inn Thirsk. Seriously injured in an explosion on Thirsk estate.
WALTER TRENHOLME. Born 18 March 1938. Son of Godfrey & Edith. Living Northallerton 1939.
WILFRED TRENHOLME. Born 29 March 1902. Died July 1961. Funeral at Dallowgill Methodist Chapel. Had lived at Green Gables Kirkby Malzeard. Farmed at High Swetton Dallowgill for more than 30 years. Married to Margaret [born 1897].
WILLIAM LEONARD TRENHOLME. Born 24.2.1896. Died 25.8.1973. Grewelthorpe M.I. Husband of Frances Thackray. In 1911 he was a farm labourer in Fearby. 1936. A butcher [Kelly's directory] 1967 Lived White House, Grewelthorpe. Also in 1939 lived South View Grewelthorpe. In 1949 lived Mowbray Hall, Grewelthorpe.
WILLIAM H. TRENHOLME. Born 5.5.1905. Married to Helena. Lived Northallerton 1939. Labourer.
WILLIAM B.TRENHOLME. Born 13.12.1922. Son of William & Frances.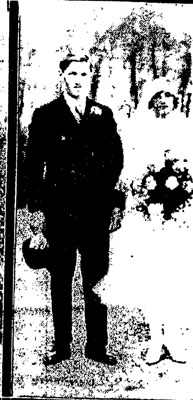 The marriage of Bernard Trenholme & Freda Stubbs at Laverton 1931.


YVONNE TRENHOLME. Born 13.1.1937. Dau of Godfrey & Edith of Northallerton. Married ? Lanthorne.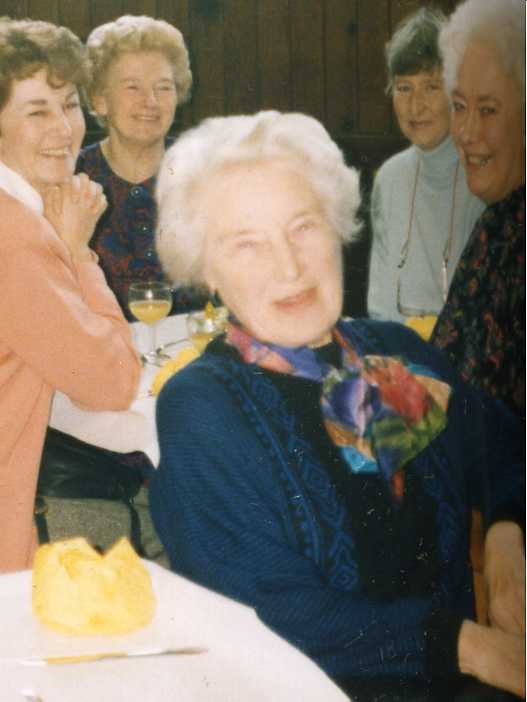 Hilary Trenholme [nee Goss] wife of John Oscar Trenholme.
Obituary for Hilary Trenholme 1919-2002.Born in Leeds in 1919 she attended Cockburn High School and then trained to become a teacher at Homerton College in Cambridge. Shortly after qualifying and with the onset of the Second World War, she moved back to Leeds to be near her family.Hilary quickly threw herself into the war effort with the typical community spirit she showed throughout her life. Among her many jobs, she taught and looked after children in Morley for many hours each week, as local parents were working long shifts in the city's munition factories.When not teaching, she helped with the Fire Watch in the city, and, with a love for nursing worked both for the British Red Cross and the Blood Transfusion Service, collecting blood from throughout the region.Because of ill health, her Father William Goss, who had worked for the National Westminster Bank, retrained as a priest, and after the war the family moved to Grewelthorpe where he became vicar of St. James's Church.Hilary became a teacher at Holy Trinity School in Ripon, and also played an active part in the life of the church in Grewelthorpe.As she had a great love of the theatre, which was nurtured as a schoolgirl with regular trips to Stratford upon Avon she helped to stage drama productions at the church.At one such producton in 1946 she met Oscar Trenholme, a local farmer who was a member of the cast, and a courtship ensued.The couple were wed by Hilary's Father in Grewelthorpe church in 1949, and began their married life on a farm at Southcote, near Masham. despite being a city girl, Hilary loved the countryside and settled into her life as a farmer's wife with ease.The couple had three children, and Hilary was very busy, combining her duties on the farm and regular supply teaching with bringing up her family. A typical day saw Hilary out at 6a.m. to bring the cows in before getting both her children and herself ready for school.But she still found time for numerous hobbies, including voluntary work for St. Nicholas's Church in West Tanfield, where she helped to found the Sunday school, as well as being a member of the PCC. At St. Mary's Church in Masham she was on the social committee.Hilary who was also an active member of Masham Players for 47 years at first being an accomplished actress, before helping with the production side in the later years. Among highlights, she helped the Players to victory three times in the district wide three act plays staged in Richmond.She shared this love of theatre with Oscar, with her husband being the Chairman of the players for 21 years and Hilary the secretary for 24 years.Other interests included being a prolific member of the Ripon Writer's Group, enjoying all forms of writing, and she was also a founder member of Grewelthorpe W.I.The couple lived for more than 46 years at Southcote before retiring to Masham. With her contacts, many interests and deep love and respect for the area and its people, she became the correpondent for the Gazette, filing her last weekly column just days before she died.She enjoyed walking and cycling, and remained extremely fit until quite recently, even walking the Three Peaks to celebrate her 80th birthday.The couple also enjoyed spending time with their family, which included regular visits to new Zealand to see her son Adrian and family.Last year she was diagnosed with cancer, but her characteristic spirit, refused to be cowed by the disease and fought it bravely.She finally lost her battle at home last Wednesday surrounded by her family. her funeral is taking place today [3.5.2002] at St. Nicholas's Church at 1p.m. led by the former vicar of the church the Rev.David Eyles.She is survived by her husband Oscar, children Lindsay, Adrian and Jonathan, and grandchildren William, Edward, Hugh & Anna.


Obituary for Frances Trenholme. 1900 – 1947.
Reported in Ripon Gazette dated 27.11.1947.
Mrs W.L.Trenholme of Mowbray hall died age 47 last week.
Mrs Trenholme was the only daughter of Mr & Mrs. G. Thackray of Ilton. Her husband William Leonard Trenholme is a well known farmer and local preacher and Rural District Councillor for Grewelthorpe. Frances was interested in the Methodist Chapel . She was the organist for a time at Ilton Chapel. She has 3 surviving sons. Basil Trenholme. took his BCC at Durham University and is now in engineering. Mr. Oscar Trenholme. is a keen farmer. Youngest son Peter Trenholme. is at Ripon Grammar School. The funeral was largely attended and took place at Grewelthorpe Methodist Chapel. Rev. W.Reid was assisted by the vicar of Grewelthorpe, Rev. Goss.Chief Mourners.Mr.W.L.Trenholme. Husband.Mr & Mrs B.Trenholme. son & dau. in law.Mr.O.Trenholme. & Mr. P.Trenholme.
Sons.Miss H.D.Goss [later became Hilary Trenholme]
Mr & Mrs. H.Thackray. Brother & sister in law.
Misses L.M. & B.Thackray. Nieces.Mr. J.W.Trenholme. Father in law.
Wife unable to attend.Mr & Mrs E.Trenholme. Mr & Mrs W.Trenholme. Mr & Mrs B.Trenholme. Mr & Mrs Spensley. Brothers & Sisters in law.Mrs. E.Wood. Aunt.Mrs R.Stelling. Mrs. Wintersgill. Mr. J.King. Mrs. W.Wood. Uncle & Aunts.
Updated May 2020.