Blackburn Jane and family.
Trevor Kitchen found the following documents in Northallerton record office [August 2019].
Thanks to Trevor for his help.


The information from the legal papers links Jane Blackburn to the
Lofthouse/Tomlin/Jackson families in the U.K. and Fast/Lofthouse
families in the U.S.A.


As part of a North Yorkshire Records Office project cataloguing legal papers from the late 1800's a document regarding Jane Blackburn of Grewelthorpe.
The following details may be of interest to decendants of Grewelthorpe families.
A document contained in these legal papers dated 1891 details the family of Jane Blackburn (spinster) who died 1st Nov 1890 in Grewelthorpe aged 82 years.
Included is a sworn statement made by George Leathley aged 68 years, dated 12th Feb 1891. (Statement required by solicitor to confirm relationship of beneficiaries of estate)
George states that he has known Jane for 30 years and her relatives include the following :-
Sister
Maria Tomlin
(Deceased) (Census records support this) Spouse
Thomas Tomlin
b. 1810 Nephew
Mark Tomlin
Tailor Grewelthorpe Nephew
Robert Tomlin
Carpenter Manchester Nephew
Samuel Tomlin
Tailor Grewelthorpe
Sister Mary Lofthouse (Deceased) Mary Ann Blackburn m. Andrew Lofthouse 22 Feb 1838
Sister Margaret Jackson nee Lofthouse. married Henry Jackson. Grocer
Niece Maria Fast Santa Barbara California Nephew John Lofthouse Rochester New York State
Ancestry Research finds :- A Jane Blackburn living in Grewelthorpe with her Mother and Uncle in 1841. A Jane Blackburn living in Grewelthorpe with her Brother in 1881.
Census 1841 Grewelthorpe
Ann Blackburn 50 1791 Female Yorkshire Grewelthorpe Cream Cheese maker
Jane Blackburn 30 1811 Female Yorkshire Grewelthorpe
Robert Blackburn 55 1786 Male Yorkshire Grewelthorpe Ind
Census 1861 Grewelthorpe
Ann Blackburn Head 74 1787 Female Watlas Yorks Grocer Farmer of 8 acres Jane Blackburn Daughter 51 1810 Female Grewelthorpe
Census 1871 Grewelthorpe
Jane Blackburn Head 60 1811 Female Grewelthorpe Grocer
Census 1881 Grewelthorpe
Jane Blackburn Head 70 1811 Female Grewelthorpe Retired Farmer & Grocer
Robert Blackburn Brother Widr 68 1813 Male Grewelthorpe Annuitant
Census 1841 Grewelthorpe
Thomas Tomlin 30 1811 Male Yorkshire Grewelthorpe Tailor
Mariah Tomlin 30 1811 Female Yorkshire Grewelthorpe
Ann Tomlin 5 1836 Female Yorkshire Grewelthorpe
Mark Tomlin 3 1838 Male Yorkshire Grewelthorpe
Robert Tomlin 2 1839 Male Yorkshire Grewelthorpe
Thomas Tomlin 70 1771 Male Yorkshire Grewelthorpe Tailor
Census 1851 Grewelthorpe
Thomas Tomlin Head 40 1811 Male Grewelthorpe Tailor
Maria Tomlin Wife 41 1810 Female Grewelthorpe
Mark Tomlin Son 13 1838 Male Grewelthorpe App Tailor
Robert Tomlin Son 12 1839 Male Grewelthorpe
Samuel Tomlin Son 9 1842 Male Garthorpe
Thomas Tomlin Son 3 1848 Male Garthorpe


Other Blackburns in the Grewelthorpe area.
ANN BLACKBURN. Born C1829. Grewelthorpe Dau of John & Frances.
GEORGE BLACKBURN. Born C 1877 Ripon. Married to Lily of Kirkby Malzeard. He was a bricklayer.
JOHN BLACKBURN. Born C1800. Thornborough. Married to Frances.
JOHN BLACKBURN. Born C1814 Ripon. Died 1891. Cab Driver. Married to Jane of Masham.
MARIAH BLACKBURN. Born C 1837.Grewelthorpe. Dau of John & Frances.
MARY BLACKBURN. born c1830. Grewelthorpe Dau of John & Frances.
STEPHEN THOMAS BLACKBURN. Born 20.11.1910 Kirkby Malzeard. Died 1981. Son of George [bricklayer] & Lily. Married in 1937 to Bessie Nesom. In 1939 he was living at Town End Farm. He was a Country Mason.
THOMAS BLACKBURN. Born C1763. Died Dec 1837. Married to Ann. Father of Robert & Jane.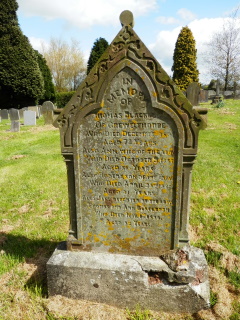 Grave of Thomas Blackburn & wife Ann. And Robert & Jane.
In Grewelthorpe churchyard.
THOMAS BLACKBURN. Bap 21.1.1801 Son of Thomas of Grewelthorpe. [Ref. Parish Reg.]
THOMAS BLACKBURN. Born C1839. Son of John & Frances.
Report in Leeds Times 1844.
William Blackburn.
Fatal Accident. The deceased had been employed for 40 yrs as a waggoner for Swinton park. On the day of his death he was leading wood from Fearby Cross. He fell between the waggon wheels and was killed. He was a steady man and a good servant and had from his hard earned wages just bought a small farm and was to be married in a few weeks.


Report in Richmond & Ripon chronicle August 1874.
Ann Blackburn 2nd dau. of the late John Blackburn carrier of Grewelthorpe married John Groves of Bradford. on August 1st at Wesleyan Chapel in Richmond.
Comment