Hutchinson
Reported in the Yorkshire gazette on Sat. 8th May 1841.
Death 4th May 1841 Peter Hutchinson Yeoman of Grewelthorpe aged 102. [Born C 1739].
Other Hutchinsons from the Grewelthorpe / Claro area.


ABRAHAM HUTCHINSON. Born C1860 Middleton Tyas. Son of Peter & Mary M. In 1881 he was a flag stone quarryman.
ALEC HUTCHINSON. Son of A.E.Hutchinson of Harrogate. Married July 1947 to Betty Scott of Harrogate.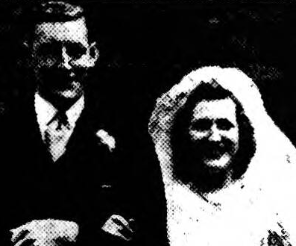 Alec Hutchinson & Betty Scott 1947.


ALFRED HUTCHINSON. Born 7 April 1869 Starbeck Harrogate. Son of John & Sarah. In 1939 Foreman at gasworks. in Harrogate. Married in 1894 to May Elizabeth Swainson of Great Ayton.
ANN HUTCHINSON.[nee Simpson]. Died 1851. Wife of Robinson Hutchinson Grave shown below.
ARTHUR HUTCHINSON. Born C 1890 Ripon. In 1911 working for Wm. Thackray in Grewelthorpe.
CATHARINE HUTCHINSON. Born March 12 1828 Carthorpe. Died 11 Oct. 1907 Australia. Dau of Robinson & Ann. Married George Longstaff. in 1852 in Grewelthorpe Chapel. Went to Australia in 1879.
CHRISTOPHER HUTCHINSON. Born 20.11 1838. Died 11.4.1881. Son of Robinson & Ann Simpson.. Married Elizabeth Coulson Fawcett Moved to USA in C1880. with 2 children. Adelaide & Sidney. both born in Grewelthorpe. See parents grave below. Christopher's grave in Orange County Virginia USA.
Death notice in Richmond & Ripon Chronicle May 1881.
April 11th. Broad Rock Farm, Orange Court House, Virginia. USA. aged 51 Christopher Hutchinson late of Grewelthorpe. Much esteemed and regretted by his friends and neighbours there.


EMILY HUTCHINSON [Nee Haggith] Born c1856.Norfolk. In 1911 a widow. Cook at the Grange Kirkby Malzeard.
HANNAH HUTCHINSON. Born 1846 Thirsk. Dau of Peter [shoemaker] & Mary.
HENRY HUTCHINSON. Born C1873 Langthorpe. Servant at Mowbray Hse. Grewelthorpe in 1891.
JAMES GWYNNE HUTCHINSON. Of Burley in Wharfedale. Solicitor. Died 11.3 1939. [Ref. Yks.Evening Post 1946].
JOHN HUTCHINSON. Born C 1775 Masham. Living Stainmoor in 1851.
JOHN HUTCHINSON. Born C1851 Masham. Married to Sarah. Living Ripley in 1871.
MARIA HUTCHINSON. Born C1857 Gilling. Dau of Peter & Mary M.
MARY HUTCHINSON. Bap June 15 1800. Dau of Peter of Grewelthorpe.
MARY HUTCHINSON. Born C 1849 Thirsk. Dau of Peter [shoemaker] & Mary.
MARY ANN HUTCHINSON. Dau of Peter of Hartwith, Pateley Bridge. Married September 24 1870 at Hartwith to Henry Sutcliffe. of Sawley.
PETER HUTCHINSON 1785 Occupied land at Kexmoor near Grewelthorpe. [Ref. Land Tax records]
PETER HUTCHINSON. Born C1817 Masham. Married Mary M. of Scruton. Farmer in Hartwith cum Winsley in 1881.
PETER HUTCHINSON. Born C1819. Grewelthorpe. Married to Mary of Newcastle. In 1891 living Leeds. A Stationer.
PETER HUTCHINSON. Born C 1822. Kirkby Malzeard. Married to Mary from Thirsk. He was a shoemaker.
Living Azerley 1851. with 3 children. In 1871 had 9 children in Leeds.
ROBERT HUTCHINSON. Born C1862 Middleton Tyas. Son of Peter & Mary M.
ROBINSON HUTCHINSON. Born 1752. Died 1823 Scorton. Married to Mary Butterfield. in 1786. Had 8 children.
ROBINSON HUTCHINSON Born 1789 Scorton. Died 30 June 1860 Grewelthorpe. Son of Robinson Hutchinson & Mary Butterfield. Married Ann Simpson. of Northallerton in 1821. S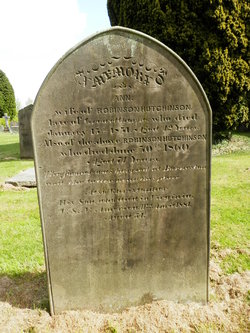 Grave of Ann & Robinson Hutchinson in Grewelthorpe graveyard.


ROBINSON HUTCHINSON. Born C 1845 Thirsk. Son of Peter [shoemaker] & Mary. He was a journeyman shoemaker in 1871 in Leeds.
THOMAS HUTCHINSON. Born C1857 Pateley Bridge. A coachman. Married to Grace of Pateley Bridge.
WILLIAM HUTCHINSON. Bap. 27 April 1817. Son of Mark & Ann of Grewelthorpe. [Ref. K. Malzeard Parish Reg.] Married Hannah from Durham. He was a shoemaker.
Research started August 2017. Last update June 2020.
Comment