Taylor
Kurt Etchingham sent the following request for information.


Seeking information about William Taylor from Grewelthorpe. His gravestone (which stands in St George',s Fields, Leeds) reads: ",To the memory of William Taylor, Born at Grewelthorpe, Died at Leeds, May 24th 1873, in his 80th year.",
Either his father or a brother, we believe, was named Matthew. We think his mother',s given name was either Sarah or Elizabeth, but that',s not confirmed. He was a joiner by trade.
We',re seeking any information—, facts, hints, suggestions—, about his family and antecedents from Grewelthorpe. We',d also be happy to share what we know of his descendents, should anyone have an interest.
Thank you.



Reply from Barbara Bradley. 13.6.2011
Hi Kurt, I have found the following entries in my records for Taylors living in Grewelthorpe.
Elizabeth Taylor. Bap. 6.1.1762. Dau of Matthew of Grewelthorpe. [These baptisms would be at Kirkby Malzeard as Grewelthorpe did not have a church then].
Matthew Taylor. Bap. 20.8.1763 son of Matthew.
Sarah Taylor. Bap. 20.1.1766 dau of Matthew.
William Taylor. Bap. 8.3.1789 son of Matthew. [I would guess this is the Matthew born 1763] This also could be your William.
Matthew Taylor. buried 8.6.1808 age 80 [born 1728]
Catherine Taylor. buried 13.2.1816 age 87 [born 1729] Matthew &amp, Catherine could be man and wife or brother and sister.
After this I can not find any records for Taylors altho I do have a gap in my records from 1792 to 1850.
I hope this is helpful and I will keep on looking. I have found your photos of the grave on ancestry.co.uk
From Kurt 14.6.2011 Hi, Barbara!
Thank you so much for your amazingly rapid response. These are certainly tantalizing leads to pursue. William and his wife Hannah had 5 children. They were named Elizabeth, Sarah, William, Matthew, and Catherine! Not uncommon names, by any means, but to have these same 5 given names turn up in the records you found is intriguing, to say the least. It would seem likely that ",my", William is somehow connected to the lineage you found. The tricky bit will be figuring how and then confirming it.
A brief side note on William and Hannah',s gravestone: Their son Matthew was a professional sculptor. It is probable that Matthew carved his parents', monument, although I have yet to absolutely confirm that. In 1880, Matthew was invited to exhibit at the Spring Exhibition of the Yorkshire Fine Arts Society. One of the pieces he chose to display was a bust entitled ",Portrait of the Artist',s Father.", Oh, to find a copy or a photo of that! Yet another quest! It',s what I love about genealogy…,
Thanks again,
Kurt.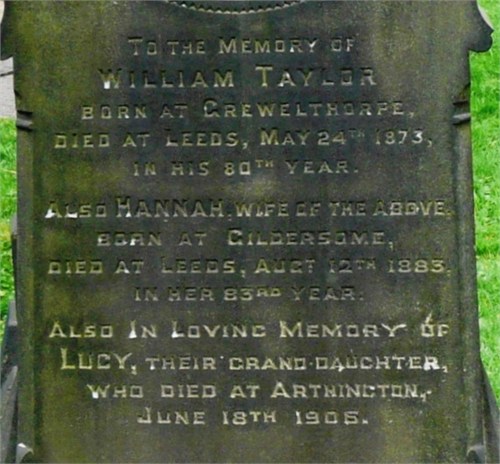 Inscription on the grave of William Taylor to be found in Leeds.


If anyone can add to this information please contact the site.