Kruckenberg
Frederick Thomas Kruckenberg was the vicar of Grewelthorpe from 1882 to 1889.
He was born in Islington, London in 1846. Son of Frederick Kruckenberg & Mary Harriet Marshall. of Bristol. He died in 1928 and his wife died 1927. they are both buried in St.James's Churchyard Grewelthorpe.
In 1851 aged 5 yrs he was living with his Great Uncle Henry Marshall who was a Professor of Dancing in Clifton, Bristol. Henry's wife Sarah was a mistress of a ladies school and they had 4 young ladies living with them. Also in the house were Frederick's Aunts, Sarah, Josephine and Louisa, daughters of Henry & Sarah.
In 1871 Frederick was lodging with Alice & Thomas May in Lewisham, Kent.
In 1881 he had moved to Masham, Yorkshire, where he was the curate at St.Mary's Church. He was unmarried, aged 35 and living with his maiden Aunts Sarah & Josephine Marshall in College Lane, Masham.
In 1882 he moved to Grewelthorpe as vicar of St.James's Church. He married Mary Sophia Robson who had been born in Bombay, India. C 1859. She was the daughter of James & Annie Robson. James had been born in Headingley.
Their children were:-
James Kruckenberg born 25.7.1884.Grewelthorpe. died 3.8.1942 in Ripon. He followed his Father into the church. In 1911 he was a clerk in holy orders boarding with Wm Kirton in Northumberland. He married Annie Eva Hannah Maughan. in 1914. They had a dau. Eva Nancy Kruckenberg born 1916 in Bedale.and son Thomas Anthony Michael Kruckenberg. born 1919 in Knaresborough. They both went to Australia. When James died he was the vicar of Studley, Ripon. He left £4772 in his will. His widow went to Australia and died there in 1960.
Louisa Kruckenberg born 22.11.1885. died 28.2.1958 in Ripon.
Francis Kruckenberg born 24.6.1887.
In 1891 Mary Sophia and the children, including another son Frederick L. Kruckenberg born in 1889, were living with her parents on Census night in Cockington Devon. Also with them was a nurse Emily Leathley aged 28 from Grewelthorpe.
In 1901 the family were all together again living in the vicarage for St. Bartholomew's at 195 Hew Cross Rd Bradford.
In 1911 the family had moved to the vicarage at The Larches, Ilkley.
Their daughter Louisa Kruckenberg did not marry she stayed caring for her Father. She was a very talented photographer with an interest in Farming life and the countryside. Her photographs can be seen in the County Library and also Harrogate and Boroughbridge Libraries.


Thanks to Elizabeth Hauke for these 2 postcard images.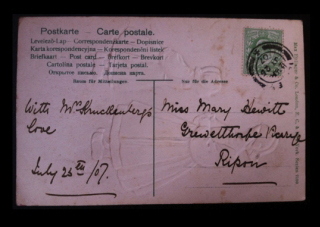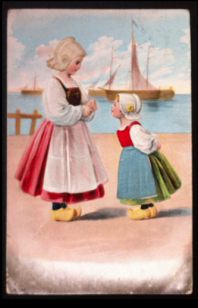 Postcard sent by Mrs Kruckenberg to Mary Hewitt a child of the Vicar of Grewelthorpe.
Posted 25th July 1907.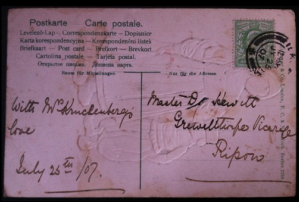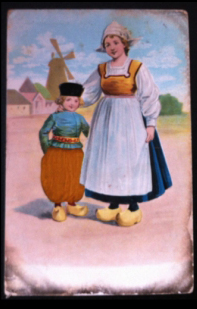 Another postcard for Master D Hewitt from Mrs Kruckenberg. 1907.


Researched by Barbara Bradley. Update Nov. 2012.