Houseman Family
Thanks to Peter Ascough for information about his Mother's family who lived in Grewelthorpe.
ELIJAH HOUSEMAN. Born 1837 in Felliscliffe. Died 1925 in Pateley Bridge. He was a hedge cutter in 1911.
He married Ellen Towers. in Feb 1878 in Bradford.
GEORGE THOMAS HOUSEMAN. Born 29 May 1878 Felliscliffe. Died 24 Jan 1940. in Grewelthorpe. Son of Elijah & Ellen Towers. He married Isobel Brown. on 1st June 1915. Isobel died in 1959. George was a dairy & poultry farmer. Living at Lime Tree House. Grewelthorpe.
They had 6 children, Ellen (married Jack Walmsley, farmer at Darley), Maisie (married Ken Taylor CID at Wakefield), Thomas ,( moved to somewhere near Hull), Marion (my mother), Alice ( married Jack Binks, farmer at Mickley) and George (a welder in Leeds}.
MARION HOUSEMAN. Born March 13 1921. Dau of George Thomas and Isobel Brown. Married Edward Ascough. They married in 1946. See photo on the Ascough page.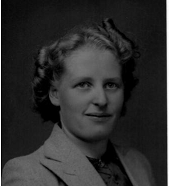 Marion Houseman.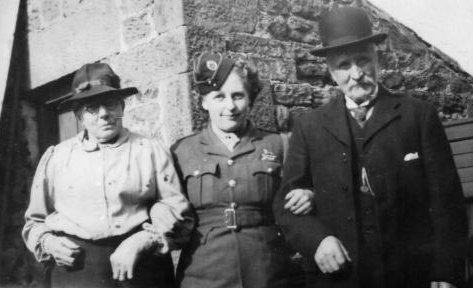 Marion Houseman and her parents George & Isobel.
Comment