Fingerfield farm Grewelthorpe
FINGERFIELD GREWELTHORPE

Fingerfield Farm.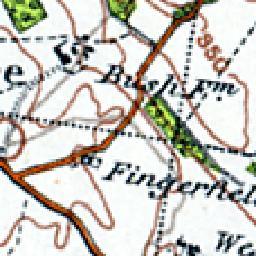 Fingerfield Grewelthorpe.
In 1822 Directory. Gentleman of Fingerfield was George Horner.
George Horner senior was buried on 30 May 1821 aged 89.
In his will, made 1817, he left to his son George his messuages, lands and tenements in Grewelthorpe, with 3 closes called Horner Close and 10 acres at Mickley.
To his wife Alice he left £30 per annum as long as she remained unmarried. £20 per annum to son John. To dau. Jane £500 when she reaches the age of 21.
Report in London Gazette February 1837
Peter Hutchinson, formerly of Grewelthorpe, in the parish of Kirkby Malzeard, near Ripon, Yorkshire, Farmer, and late of-Fingerfield, in the township of Grewelthorpe , out of business.
Report in The Leeds Mercury may 7th 1864.
The surveyors of the highways of the hamlet of Mickley were summoned for the non repair of a portion of road leading from Fingerfield farm to Horner Bank Mickley. The property on each side of the road formerly belonged to a person named Jacques to whom it was awarded by the Enclosure Commissioners about 72 years ago. At this time the road ran through the Farm. By this award it directed that the road should be maintained and kept in repair for ever by the owner of Fingerfield Farm. 30 years subsequently the road was fenced on either side by the then owner, since which time the onus of repair has been disputed by the owner and the township.
The award was not in evidence and the Solicitor who appeared on behalf of the Highways denied liability. Colonel Crompton. as owner of the Farm denied his liability to repair. At this hearing matters were delayed for a fortnight. So no decision was made.


Report in Richmond & Ripon Chronicle in March 1875.
Mr Robert Imeson is declining farming at Fingerfield Grewelthorpe and wishes to sell by auction all his valuable farming assets. Animals. Hay and Implements.


Report in Sheffield Daily Telegraph 6 June 1894.
Death of William Horner Boddy of York, age 55, announced. He was the youngest son of Thomas Boddy of Grewelthorpe and the grandson of George Horner of Fingerfield. He left a wife and 3 sons and 4 daughters.
14th May 1860. Thomas Atkinson. of Fingerfield married Mary Yeates. of Azerley at Register Office, Ripon.
In 1881 Census. William Matson. Farmer at Fingerfield Farm.
In 1891 Census. Thomas Buckle. Farmer at Fingerfield.
In 1901 Census. Charles Jackson. Farmer at Fingerfield.
In 1906 Fingerfield Farm was bought by William Mitchell. A surveyor.
In stocking the farm Wm Mitchell became pinched for money. He then committed the crime of falsifying wage sheets. He would make the sheets out for too much money and he would pocket the difference. He pleaded guilty when he was arrested and summonsed. He repaid the £120. He was sentenced to 6 months in gaol with hard labour. he had a wife and young children. [Ref.Yorks Post Feb 1908]