Beggars Bush Farm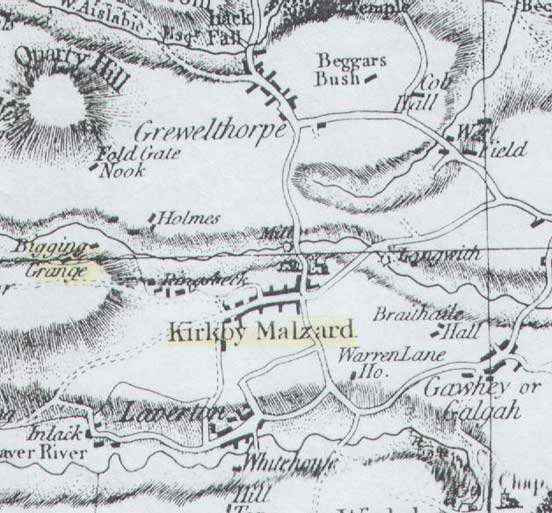 \n\n
This 1775 map of the Grewelthorpe area shows where Beggars Bush farm was.
\n\n
Grewelthorpe, West Yorkshire Beggars Bush 1775
\n\n
Beggars Bush Farm was an isolated farm near the village of Grewelthorpe in the Parish of Kirkby Malzeard, West Yorkshire, about 8 miles from Ripon. It is an example where there is a documented alternate simple Bush name, which survives.
\n

\nThe name Beggars Bush is recorded on Thomas Jefferies map of the West Riding dated 1775 next to a building some distance from the nearest lane. No building is shown on a map dated 1600, which shows the field as pasture. This name is recorded as late as 1915 in Robinson's District Directory for Grewelthorpe.
\n\n
It appears to be at the location of what is now known as Bush Farm. Remarkable Baptism Registers for 28 &amp, 29 September 1844 for two daughters of William &amp, Ann Hammond give their address in one as Beggars Bush, and the other as Bush Farm
\nRef. www.beggarsbush.org.uk/grewelthorpe-west-yorkshire.
\n

\nThe farm was mentioned in a 1915 directory. See the item ",directories", in the History section of this site
\n\n
Neil Howlett has been researching the Beggars Bush name and he sends the following comments.
\n\n
Most Beggars Bush place names come from a phrase common in the Elizabethan period ",to go by beggars bush", meaning to fall on hard times often through ones own folly. He thinks it was distributed by literature, particularly a play of that name by Beaumont &amp, Fletcher was very popular until the 19th century and performed at fairs and other informal locations.
\nAnother route for distribution was a prominent hill of that name on the 1576 map of Huntingdonshire by Saxton which was reproduced for over 200 years.
\nThe place name is less common in the North. It seems to be associated with marginal land, and commonly changes.
\nIn many places such as the Huntingdonshire example it is connected with a change to a Kings name.
\n\n


\n…,…,…,…,…,…,…,…,…,…,…,…,…,…,…,…,…,…,…,…,…,…,…,…,…,…,…,…,…,…,…,…,…,…,…,…,…,.
\nIn 1855 Bush Farm Grewelthorpe was occupied by Thomas Auton.
\nThe farm was offered for sale by auction following the will of Samuel Wrather.
\nSee the details of the will in the history section of this site.