Wayside Cross
On a grassy rise in the village of Grewelthorpe stands a wooden wayside cross which has been there for 102 years. Amazingly many residents don't know the history of the cross and some recently have said they didn't know it was there.
The cross was erected in 1917, during the First World War, by the vicar of Grewelthorpe.
He didn't want a memorial to the dead but wanted to provide an inspiration to the residents to make sacrifices and do their duty.
The parishioners were asked to subscribe to pay for the cross. When enough money was raised to make a start, the cross was made of American Oak. English Oak was not available and the vicar thought that it would be right to use oak from America as they were our allies. At this time it was just a plain cross. Then more money was raised and the figure of Christ, made out of Teak, was added. He has his arms outstretched as if making a blessing. He is adorned with a crown of glory and a draped garment. Above the figure is the inscription "Lift up your Hearts". The whole thing was designed by Clement Oswald Skillbeck a fellow of the Society of Antiquarians.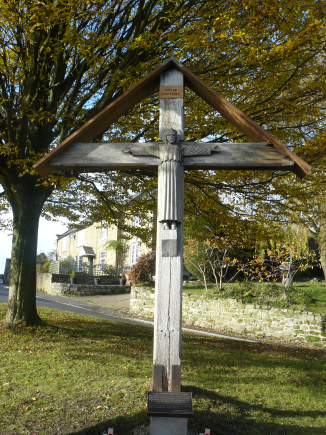 Grewelthorpe wayside cross.
Now complete, a dedication ceremony was conducted in 1918 by the Vicar of Masham Rev C.H.Watson.
A large number of parishioners gathered on the green including Lady Masham, General & Mrs Dalton, Miss Staveley, and the vicar of Winksley Rev. Vardy.
Now in 2019 it was noticed that the cross was in need of some tender loving care. The wood was rotting away and the cross became unstable. The Grewelthorpe branch of the Royal British Legion resolved to put it right.
With financial help from the Parish Council and help from local businesses and residents the cross has been restored and is as good as new. Also a plaque has been added informing people of its history.
A rededication ceremony was performed on Sunday 10th November 2019, following the remembrance day service in the church. The congregation moved from the churchyard to the green, now known as Crosshills,
The cross was blessed, the Legion President Roger Chapman unveiled the new plaque.
Let us hope that it is good for another 100 years and perhaps more people will stop to look at it and remember.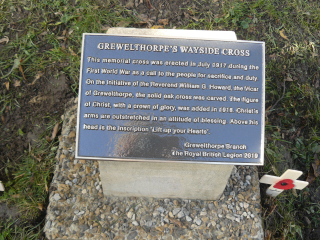 The new plaque.
Comment