Old School &, Village Photos
We will post old pictures associated with Grewelthorpe C of E School and village here. If you recognise anyone or have memories, photos and anecdotes of being at school or living in Grewelthorpe please let us know.Also please if you have any old photos, please let me borrow them to scan in and give you back the originals.



Last update Nov. 2018.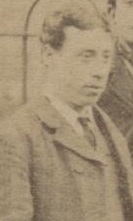 One of the early head teachers. Can anyone name him. Please contact the site.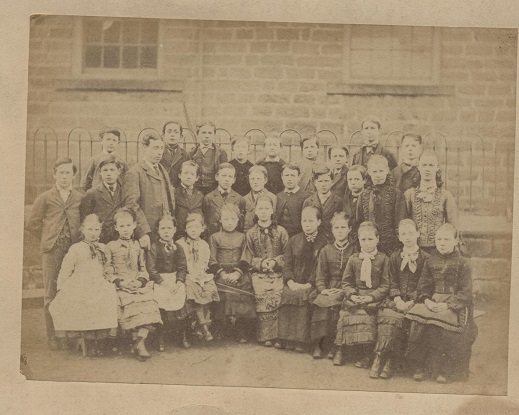 These are his pupils. Photo is taken outside Grewelthorpe school. These girls and boys are all very smartly dressed. This must be a special occasion.
Does anyone know what was going on?
Thanks to Dorothy Manning for this photo.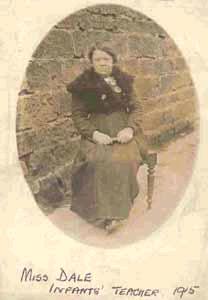 Miss Dale. school teacher 1915.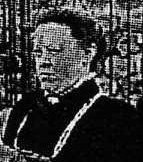 Miss Alice Dale.







Frederick Pickles. Headmaster 1901 to 1913.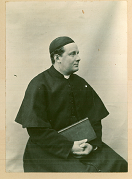 It is thought that this clergyman has a link with Grewelthorpe. Photo dated about 1893.
Does anyone know who he is. Please contact us if you do.
Thanks to Richard David for photo [April 2019].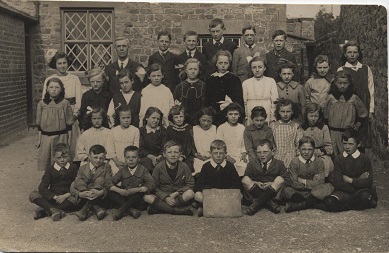 This school photo was taken in 1919. The boy centre front holds a board with the date on it. I think it is outside Masham School. Can you name anyone.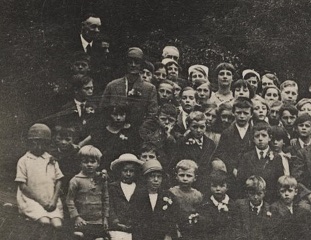 A school photo from around 1928 I think the lady teacher may be Miss Bennett.
If anyone knows better or can name any of the people. Please contact me.
The boy with a tie. 2nd row on right next to and slightly in front of a very tall boy is Cyril Clarkson.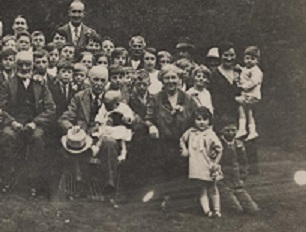 The other half of the above photo. There a lot of adults on this photo. What was the occasion. Again if you can identify anyone please let me know.
Thanks to Dorothy Manning [nee Clarkson] for this photo.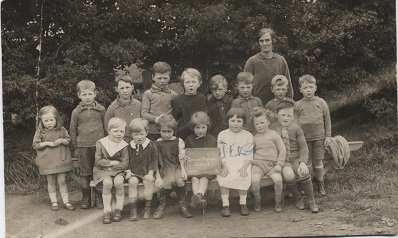 Miss Bennett & class of approx. 1928. Girl far left Betty Jowett, girl holding board Minnie Ashby Boy 3rd from right standing Billy Goundry.
Thanks to Ann Simpson for this photo.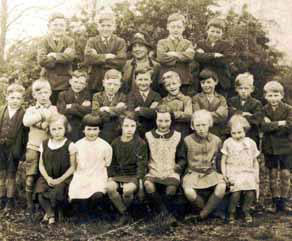 Class of 1928.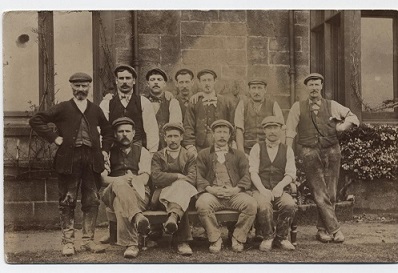 Robert Clarkson [foreman] [on left] and the woodmen from the Hutts. Can you name them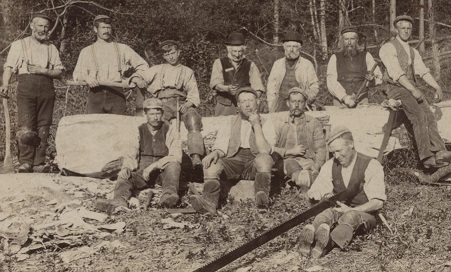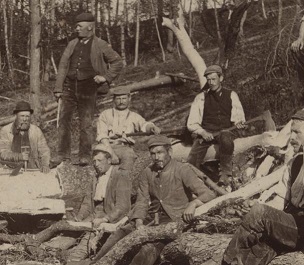 The woodmen working on the Hutts estate.
Thanks to Dorothy Manning for these photos.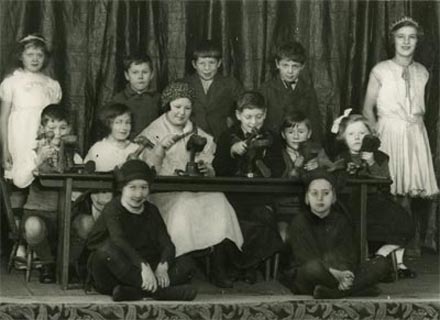 School play "The Cobbler & The Elves" performed in 1938.
See page in History section "School play" for names.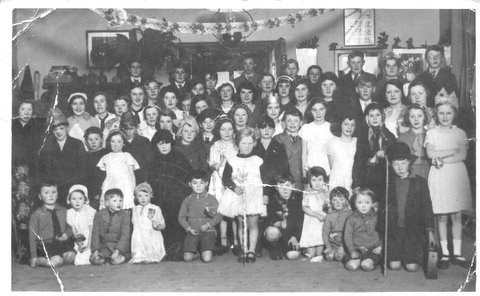 Christmas party 1937. Girl in black & white hat under right hand door jamb is Evelyn Bain. Girl on front row 4th from Right is Margaret [Meg] Bain. Report from Ripon Gazette Dec 1937.
The children of Grewelthorpe School had a Christmas Party last Thursday evening. [23rd Dec] The schoolroom wore a festive appearance being gaily decorated with holly and streamers etc.A sumptuous tea was served by the headteacher and his staff assisted by Mrs Reid, Mrs J.Ascough & Miss M. Jowett. The children were entertained with games and later gave plays prepared for the occasion by each division of the school. All were well acted and followed with keen interest and amusement. The plays were:-Infants. The Three Pigs. Mother Goody & Fog.Juniors. Punch & Judy. & The Discontented Princess. Seniors. Transformation [ a school escapade] & Making a Fairy.





Maurice Harland sent memories of school life.
I started school aged 8 in 1938, Dorothy Goundry took me for the first week. Mr Reid was headmaster and Miss Bennet infants school teacher. I visited Miss Bennet in 1965, she had retired back to Derbyshire and she was a very elderly lady, we did exchange one or two memories. The village was self sufficient with local business people and visiting business people. There were 2 pubs, The Hackfall Inn, Landlord Bill Hartley who at one time opened a fish and chip shop behind the pub, fried in a large metal container with a paraffin burner underneath. Susie – I presume Susan Scott had the Crown Hotel. I am told another pub The Royal Oak was at the bottom of Wapping. I don't remember it.There were 2 butcher shops. Mr Harry Frankland next to the school, Mr Leonard Trenholme next to the Crown Pub. Mr Trenholme had a slaughterhouse at his farm South View. Mr Trenholme retired and Billy Goundry took over until its closure. The Post Office was run by Mr Frank Taylor whose son Leslie was a prominent local historian and a keen rambler helping to preserve footpaths. [See Les Taylor tapes elsewhere on this site].Mr Leng had the village store next to the school, he had his right hand missing and when he was weighing sweets he held the bag with his arm, and the bag clutched to his chest. He was the 1st to have Elderado Ice Cream. Mr & Mrs Hall took over the shop.I worked with Harold Hall he was an excellent joiner for Mr Thirkill and Harold is mentioned elsewhere on this site for his luck at Dunkirk.Just below the Crown Inn Mr Morley ran a small shop through the war years and next door Mr Thorpe was the miller, he also sold petrol, paraffin, and charged up accumulator batteries for radios [price 6d].Next to Lofthouses Dairy was Mr Tomlin the tailor, the house is still there with a big window. Mrs Tomlin was a widow who took a dim view of ball games, and on odd occasions did keep the balls if they went into her garden. Next door ws Mr George Thirkill & his son Raymond. Joiners & Undertakers. They employed a lot of people over the years, including me. Weekly wage in August 1944 was 10/6d including Sat. morning. At age 18 years I had progressed to £2 per week. Then I joined the Royal Engineers at £1.17.6d per week. 7/6 paid each week to my Mum.Mr Albert Stelling was an electrician next to the pond. He put electricity in our cottage around 1940.Next to the chapel, at the end of Chapel Row was Mr Metcalfe the Blacksmith.Mrs Ashby & Herbert had a small house shop at the top of Cross Hills selling lemonade in the old type bottles with a marble in the top, and Smiths potato crisps with little blue bags of salt in.Mr Donald Leathley and George Lofthouse were painters and decorators.3 local men looked after the roads around the village Eddie Ellis, Percy Ashby & Harry Holland.The school attendance man Mr Vickers, known as the kid catcher came to school. He was a very large man who played the piano.Visiting businesses included Carricks from Snape with Fresh fish and veg. A baker from Ripon remembered as Dickie Dare he had a bakers behind the White Swan in Ripon. he was well known for appearing a little tipsy. Mr Craggs effectionally known as Fruity Craggs came with fruit & veg. from Mickley. I seem to remember he had his lower leg missing. A Masterman's ice cream cart came from Ripon and a Draper, Mr Nattrass came from Bedale. One could buy things and pay weekly. We were invited to the home of General Dalton known as The Hutts on Empire Day and I still have a book presented to me.Mr Thirkill was prominent in the chapel and George Lofthouse was organist. Doug Lofthouse & I pumped the handle of the organ to make it work.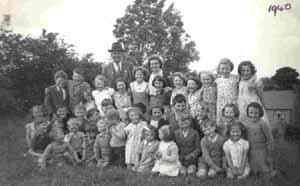 Class of 1940.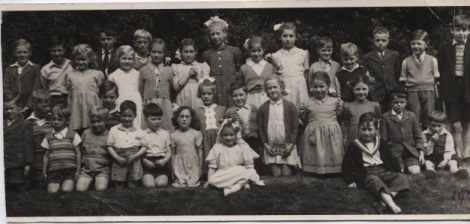 St James's Church centenary celebrations. July 1948.
Photo taken on vicarage lawn before children's concert. Can you recognise anyone?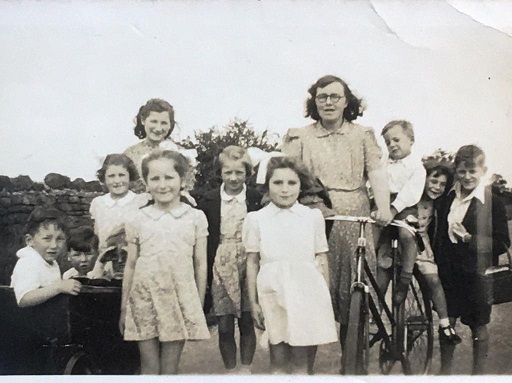 Photo of a Sunday school outing about 1945.
Some of these people have been identified. If you disagree or have anything to add please contact us.
L to R. Brian Ashby. Ivan Chamberlain. Evelyn Ashby. Adult at back – Doreen Holland. Avril Chamberlain in front.
Jenny Bainbridge in dark coat. Marian Ashby front centre. Adult with bike. Elsie Cole. Boy far right Roy Chamberlain. Boy and girl on bike not identified. Can you help.
Thanks to Richard Wilson for this photo.


A celebration in Grewelthorpe Chapel possibly during the war years.
The trio around the cake are Ada Batty. Raymond Thirkill & Rev. Elliott.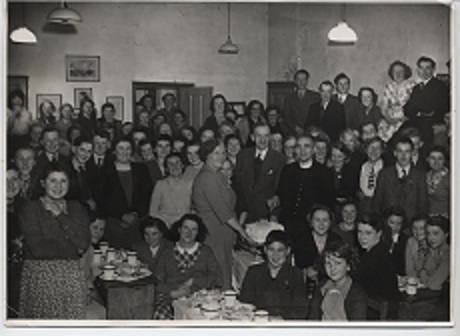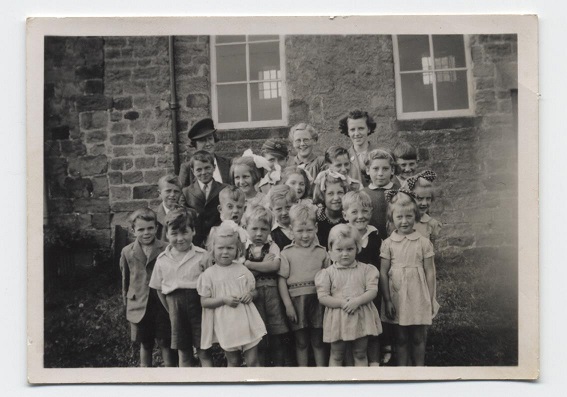 A photo taken outside the school. The three adults are Ada Batty in the hat. Margaret & Doreen Harrison.
Can anyone name the children.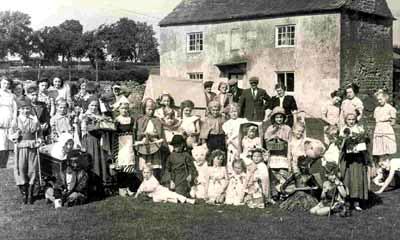 Fancy dress in 1949.



Some of these people recently identified in 2013. Photo taken on village green outside Mrs Lofthouses's house. The white house known as The Green Farmhouse.Far left Marina Lonsdale. & Barbara Calvert. Lady in hat near tent Mrs Lofthouse. Man in cap in front of door Mr. Harland. Cap & Jacket Mr Trenholme.*Boy far left *Gordon Ryder. Boy in pram Donald Calvert.: Girl with box Jenny Chamberlain. Dutch girl Kathleen Ward. Girl in front of tent with head band Avril Chamberlain. Girl with plaits Brenda Rider. Message From Harold Ianson: Fancydress photo 1949 second in from right front row, the little boy dressed as zulu warrier is me [Harold Ianson]. My mam and sister Carilyne covered me in soot, I remember it so well.







Another village group from 1949. The ladies in costume on the back row are the Grewelthorpe Folk Dancers. 2nd left is Minnie Jowett.The gentleman up high at the back to left of picture is Dougie Lofthouse. The gentleman far right is Henry Lofthouse. The gentleman to the right of the dancers on back row is Raymond Thirkill.And tall gentleman on left next to lady in hat, is Oscar Trenholme.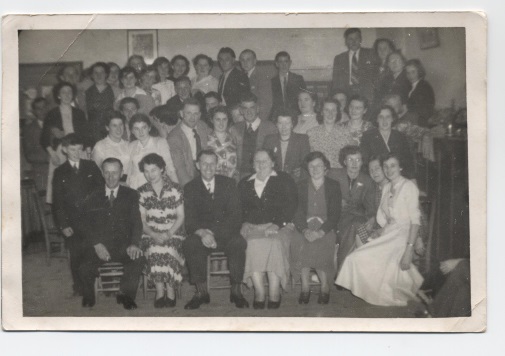 And yet another from the same era. Names please.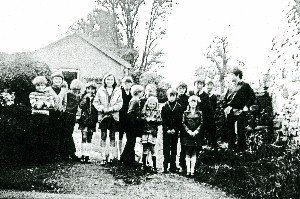 Grewelthorpe school children outside the school canteen. Believed to be late 1940's.



Message Dec 2012. from Anne Simpson. re. the above photo.The photograph outside the old school canteen that was at the bottom end of the village which has been estimated that it was the late 1940s. We think it is the early 1970s as the boy on the front row with a light coloured v on his jumper is David Goundry, we can't make out other individuals but there could be Timothy Simpson, Philip Greensit, Angela Harland, Chris Hanby, Richard Frankland, Colin Barker, David Poulter,and Alan Simpson.I am not sure when they stopped using the canteen. I do remember my aunt Dorothy Goundry, Elsie Cole and Nellie Macdonald working there.

Thanks Ann. Can anyone help identify pupils on the old canteen photo. Please contact the site if you can.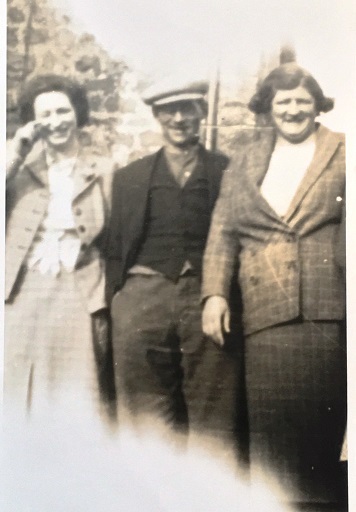 The Holland family. Harry. Rose and their daughter Doreen.
They lived at Ilton Cottage which is now called Cedar Garth on Ilton Road.
Many remember Harry with respect, he was one of the village roadmen, responsible for keeping the village neat and tidy, sweeping, cutting verges and clearing out the ditches.
Thanks to Richard Wilson from Kent for this photo. His Mother knew the Hollands during the war when she was evacuated to the village.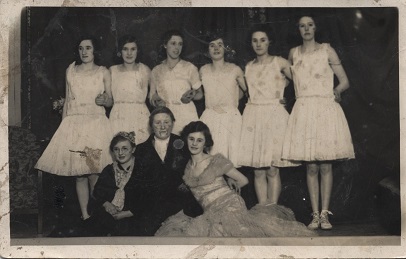 Old photo of a dance group. Can you name anyone or give a date and occasion.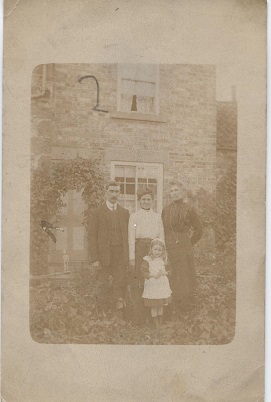 This family are photographed in the garden of Burn Brae Grewelthorpe. Can you name them or put a date to the photo.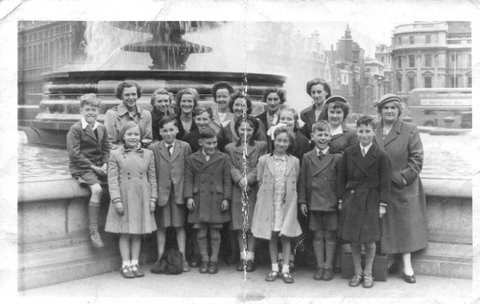 School trip to London about 1951. Adults L to R. Mary Jowett. Minnie Jowett. Mrs Ashby. Mrs Hall. Mrs. Stelling. Mrs. Ward. Miss Dorothy Goundry. Meg Bain. Emma Bain.Children L to R. Malcolm Stelling seated. Elizabeth Hall. Ivan Chamberlain. Brian Simpson behind Kevin Ward [small boy at front] Joan Hewitt. Avril Stelling behind Stella Richardson [white ribbon] Mervyn Bain. Brian Ashby.








Minnie Jowett & class about 1951. Back Row L to R. Miss Jowett. Henry Simpson. Osmond Chapman. Joan Hewitt. Malcolm Stelling. Rosemary Hindmarch. Elizabeth Hall. Ivan Chamberlain. Brian Ashby.Middle Row L to R. John Hewitt. Gilliam Hawkins. Kathy Ward. Worthy Chapman. [poss] Myra Hawkins. Brian Simpson. Joyce Calvert. Brenda Richardson. Rosemary Cross. Front row L to R. Kevin Ward. Richard Chapman. Mervyn Bain. Stella Richardson. David Marsden. John Hindmarch. Harold I'Anson.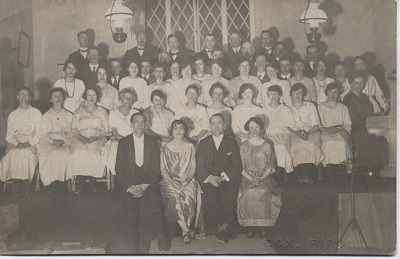 This looks like a choir. The photo was found in a Grewelthorpe residents scrap book so it must be somewhere local. Do you recognise anyone? Can you date it and say where the concert took place?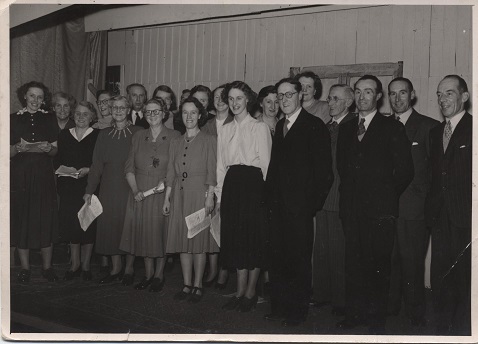 Another choir? Can you say where or when.





This is obviously a village outing to somewhere. Far more men than ladies. All the ladies wearing hats. Can you say who, when and where they are?. Letter from Jane [Jan 2016] with an idea for this photo.
Can anyone comment further? One of the pictures of a group of men and women with the caption This is obviously a village outing to somewhere. Far more men than ladies. All the ladies wearing hats. Can you say who, when and where they are? I suspect it could be something like a Bibby's Animal Feedstuffs outing, but may be wrong. That may be why there are more men than women. These outings were very popular with Farmer's groups during the 1960-70s. If it was it would be of more interest to the Farmers themselves rather than their wives, hence more men?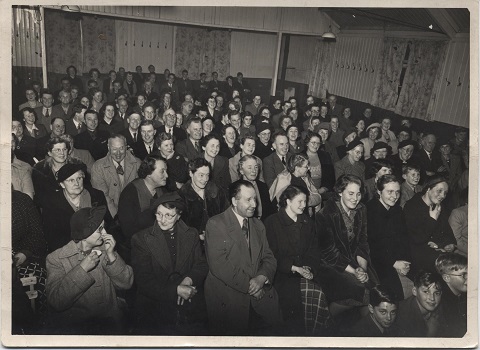 This audience are having a good laugh, possibly at an amateur production of a play, there were several dramatic societies in the villages. Can you identify this occasion. Could be West Tanfield village hall.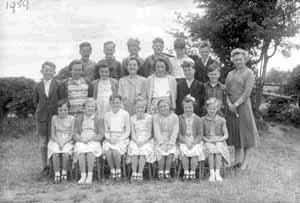 Class of 1959.




Back Row L to R.Chris Wilson. Richard Fenwick. William Nesom. Brian Hindmarsh. Keith Hutchinson. Dennis Simpson.Middle Row L to R.Malcolm Hutchinson. Sylvia Myers. Lynn Forbes. Christine Forbes. Ann Goundry. John Ashby. Peter I'Anson.Front Row L to R.Pamela Caygill. Ruth I'Anson. Sandra Binks. Shirley Boynton. Celia Binks. Dorothy Clarkson. Linda I'Anson. The teacher is Miss Minnie Jowett. Thanks to Ann Simpson for this information.



Letter received from Lynn Forbes in Jan. 2011. re the 1959 photo.
My name is Lynn Forbes and just by chance I decided to search for any old school photos of my childhood school in Grewelthorpe and low and behold here I am standing next to my sister Christine Class of 1959, We lived at the time on the Farm at Bramley Grange about 2 miles outside of Grewelthorpe.We used to walk to the end of the fields then catch a car ride to school. Those were wonderful times I look back with very fond memories.Christine lives in Ripon is married has children of her own, My self well I live in Florida ( Kissimmee ) also have 3 children with 3 Grand children, My how time flies , But I am back to being a single person again, so kept the name Forbes, some one has to try and keep the name going,I have been back to the Farm a couple of times I so loved it, The farm at that time belonged to George Barker along with his two sons Peter and David bothwere married with kids of there own ,in fact I think Stephen Barker also went to the Grewelthorpe school ( Peter Barkers middle son ) the class of 1970.The rest well I don't know where they went, Im digging pretty deep in the memory banks on all this information. My Mother was Mr George Barker's Housekeeper, so when she got the job we the kids came along too, ( a great guy , may be may be not ) We at that time were living with my Grandparents.In Horseforth near Leeds , So moving to Bramley Grange was a dream, The farm has just been sold again this time I don't know who has it ,last time it was a Horse farm. Well I have enjoyed this little time going down memory lane and hope I have been some help to some one who may know me. Sisters married name Christine Groundwater married to John Groundwater Brothers name Eric Forbes who now lives and works in China. Mother Jessie Forbes lives in Ripon


If you wish to add to Lynn's comments please contact the website.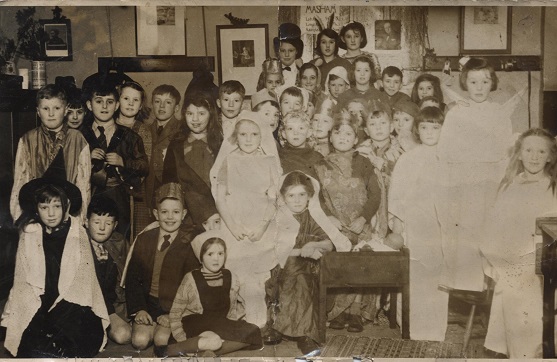 This is a school photo possibly Masham School children. Can you name anyone, or give us the date>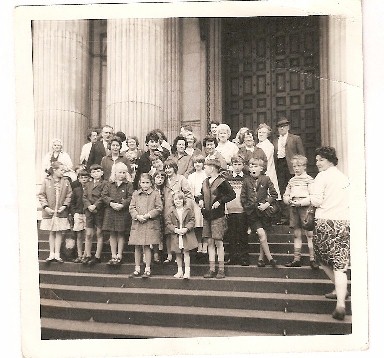 School outing 1965.




Back Row. Miss Minnie Jowett. Mrs Richmond. Walter Myers. Nellie McDonald. Freda Thompson. Mrs Ashby. unknown. Mrs Calvert. unknown. 2nd row adults. Barbara Fenwick. Ann Fairnington. Evelyn Frankland. Mary Jones. Children. Ann Myers. Peter Lofthouse. Nigel Hutchinson. Jane Robertshaw. Moira Boynton. Claire Lofthouse. Shirley Pickles. Anita Binks. John Richmond. John Binks. Peter Richmond. Front Row. Jacqueline Frankland. Carol Pickles. Brian Fenwick. Mrs May Stelling.




Local Milkman John Lumley and his little helper Paul Richardson. Date unknown. Probably 1970's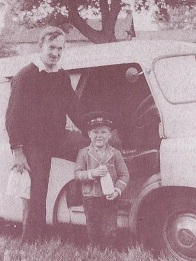 Grewelthorpe Stores shopkeeper Florrie Hall. Probably 1970's.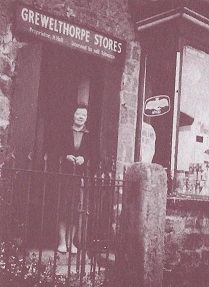 School dinner ladies Frances Leathley, Barbara Fenwick & May Stelling. About 1970?





Village joiner Raymond Thirkill. About 1970 ?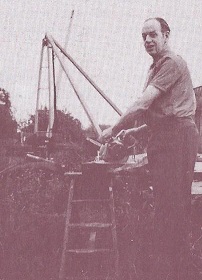 District Nurse Inchboard in Grewelthorpe possibly 1970's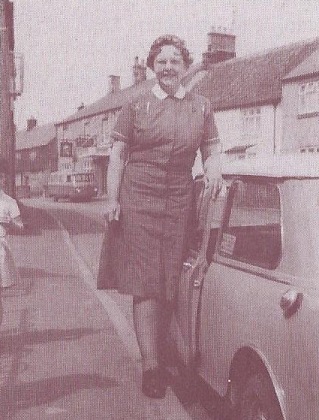 If any one can accurately date the above photos please contact us.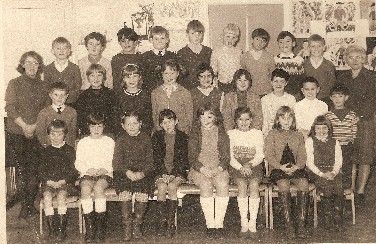 Junior Classes of 1970.Back row. Mrs Watson. Keith Metcalfe. Paul Richardson. Fred Harland. Paul Barker. Stephen Jeff. Mark Robertshaw. Charles Mudd. David Smith. Brian Metcalfe: Miss Minnie Jowett. Middle Row. Stephen Barker. Christine Hutchinson. Margaret Hall. Debbie Robertshaw. Elizabeth Mould. Christine Poulter. Judith Hutchinson. Andrew Mould. Howard Wilson. Front Row. Valerie Ingleby. Dianne Lofthouse. Jane Trenholme. Mandy Wilson. Jenny Thackray. Rosalind Frankland. Christine Jackson.Carol Pickles. Thanks to Carol Pickles for the 1965 & 1970 Photos.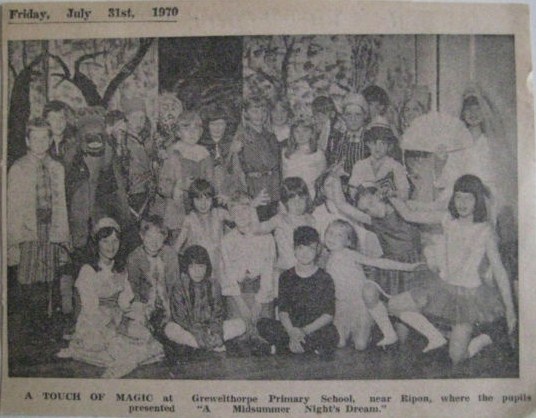 School play 1970. Midsummer Nights Dream. Can you put names to any of the actors.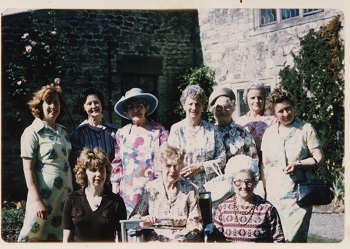 This photo I think is of WI ladies. I have a few names but could be mistaken.Left to Right standing. Joan Frazer: ? : ?: Barbara ? : Audrey Robson?Lady Dalton: Mrs McWilliam: Seated. Eileen Verity: Mildred Stevenson?: \Freda Thompson.Do you know better? Can you date it and state the occasion.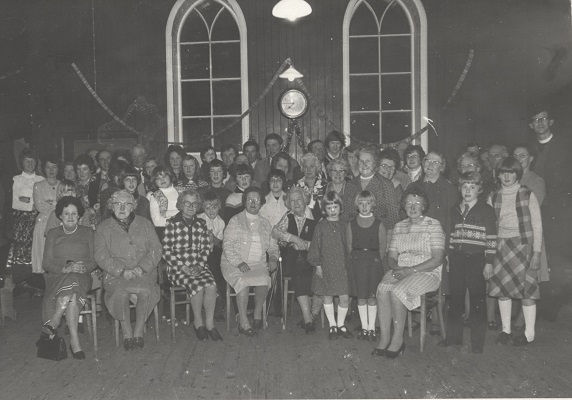 A group taken in Grewelthorpe chapel schoolroom at Christmas time.Do you know the year? Thought to be in the 1970's. Front row seated. Lettie Robinson: Barbara Calvert: Doris Ellis: child James Vasey:Ellen Simpson: Ada Batty: 2 girls Barbara Stelling: Tracy Simpson: Renee Hutchinson:boy Mark Stelling: girl Angela Simpson[check skirt] behind her May Harrison & Henry Harrison: Vicar Peter Ensor: behind Mark, Bessie Dawson: Behind Renee, Mrs Hill:to her left Jean Stelling & Barbara Gregg: Behind the 2 girls, Nellie I'Anson & Freda Thompson: Flowery dress, Nellie Cooper: Back left to right. Dorothy Poulter: ? Barker: Jean Trenholme: Nan Simpson: Eric Simpson: Under clock. Charles Henry Richmond: William Chandler: Malcolm Trenholme & ? Newbould.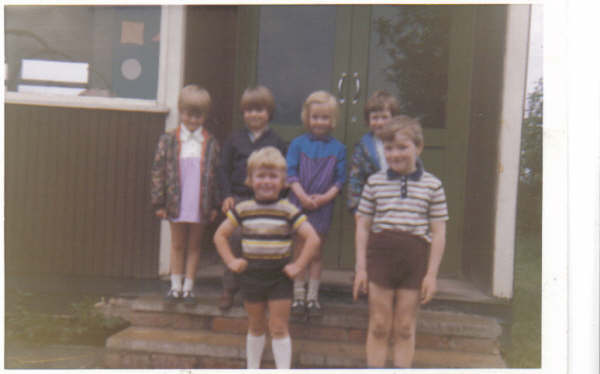 Class of 1973. Pupils at rear on steps. Angela Simpson: Robert Atkinson: Mary Harper: Peter Simpson. In front. Ian Smith & Malcolm Smith.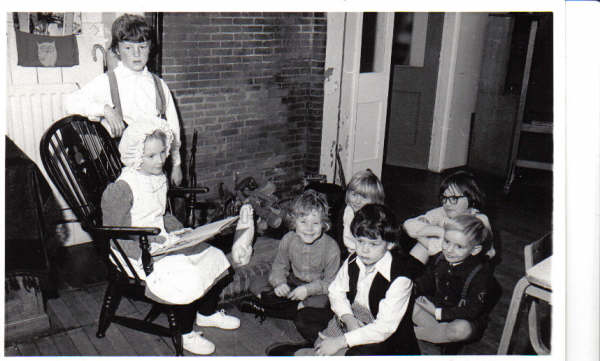 Grewelthorpe school centenary celebrations 1976. Mary Harper in chair. Ian Smith next.On floor. Mark Ashby: Simon Leathley: Roger Ferguson: Beverley Craggs: Malcolm Smith in glasses.


Thanks to Mary Harper for 1973 & 1976 photos above.



Letter from Tim Simpson [June 2012] I was a pupil at Grewelthorpe C of E School from January 8th 1968 (day after my fifth birthday) untill the end of term June/July 1974, I then went to St Aidans C of E High School in Harrogate untill June 1980. I can remember Mrs Hall and her Daughter Margaret who had the shop next to the school, I bought a packet of salt and vineger crisps and a can of lemonade there and I remember the crisps only cost two and a half old pence, I always went in there before school, then the Harpers took it over and Sally was my age, I used to see Simon at Leeds United FC in the 1980s, and Mary was always around Harrogate in the 80s, I also remember the Post Office shop next to the Hackfall Inn, and Goundry's butcher shop next to the Crown pub, Rev Jones and Mrs Jones, and all the farms seemed to have a grey Ferguson Tractor. I remember Miss Jowett tried to make us do old time dancing, one day and I had to dance with the older Greenwood sister called Annette, she was very quiet all the time and she had a younger sister called Angela (I think), and Paul Richardson (snoz we used to call him) I've not seen him in years ? I wish that I could go back to live in those days with hardly any traffic etc.


Tim would like to hear from anone who was at school with him to remember times gone by.


To contact Tim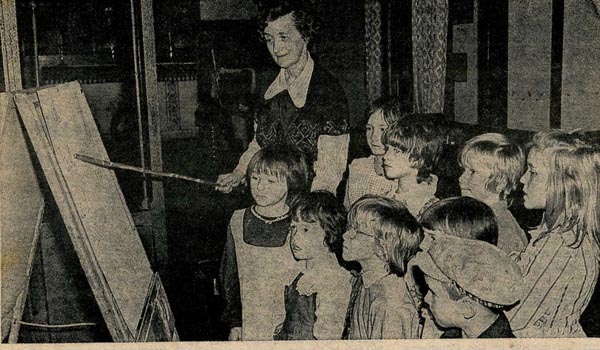 Mary Jones class in 1976.






Headteacher in 1970's Gill Mayoh.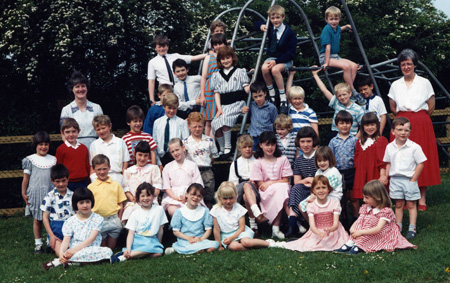 School in 1989.




Back row L-R. Damien Stelling: Alex Theakston: Rebecca Hill: Hannah Theakston: Gareth Taylor: Keving Boynton. Miss Ashworth: Jonathan Kitching.2nd Row. Andrea Lofthouse: Charles Mason: Terry Jackson: Jonathan Thompson: Simon Robinson: John Drury: Danny?: James Parfett: Jamie Bain: Stephen Lofthouse: Mrs. Alderson.
3rd Row. Carl Harrison: Graham drury: Ruth Harrison: Tracy Jackson: Lisa Ashby: Michelle Smith: Janna Taylor: Gemma Kitching: Helen Bain: Daniel Jordan: Laura Thompson: Andrew Gall.Front Row. Jayne Kitching: Kim Sanderson: Kate Metcalfe: Helen Theakston: Catherine Theakston.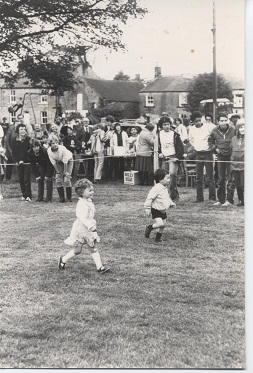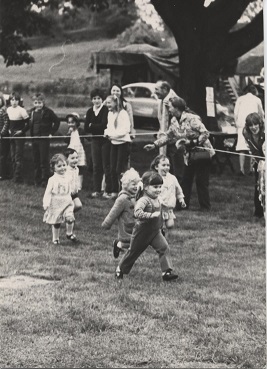 These 2 photos from Gala Day in the late 1970's or early 80's.
The lady leaning forward is Nellie I'Anson. Do you recognise anyone?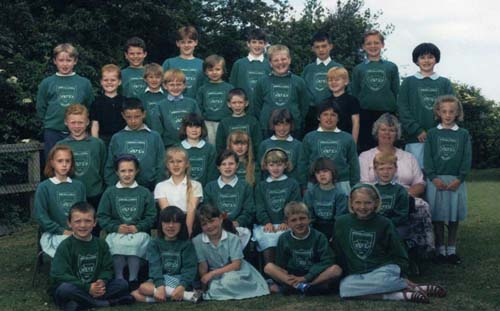 Grewelthorpe school 1992. Head teacher Ann Rooke.Thanks to Jamie Bain and Sue Metcalfe for filling in some of the names on the above photo.Back Row.
Left to Right.Kevin Boynton: Andrew Clark-Monks: Jeremy Bridgeman: Chris Hampshire: Carl Harrison: Graham Drury: Jane Kitching.
Next Row. Left to right. Michael Runton: Daniel Wilson: Richard Metcalfe [blue collar]: Alastaire Stelling: Ben Richmond: Jamie Bain: David Runton.Next row. Left to Right.John Drury: Stephen Lofthouse: Louise Hampshire: Samantha Dawson: Nicola Arnold: Andrea Lofthouse: Mrs Ann Rooke [head teacher] Catharine Theakston.
Next Row. Left to right. Helen Theakston: Helen Bain: Jackie Runton: Kim Sanderson: Lindsay Gall: Tara Lonie: James Birch.
Bottom Row. Left to right.Andrew Gall: Teri-Ann Lonie: Karen Boynton: James Kelly: Kate Metcalfe.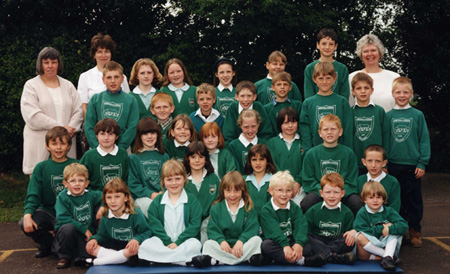 School 1996.Back row L-R. Mrs Christine Lofthouse: Mrs. Ann Collins: Lindsay Gall: Karen Boynton: Terri-Ann Lonie: Siobhan ?: Thomas Hart: Mrs. Ann Rooke.
3rd row. James Kelly: Richard Metcalfe: David Libera: Ben Richmond: Martin Lofthouse: Daniel Wilson: Tim Pattison: Glen Lonie.
2nd Row. Alastair Stelling: Laura Kelly: Tara Lonie: Alison Wilson: Elizabeth Grice: Simone Gibb: Lisa Boynton: David Runton: Jack Richmond.
Front Row. Gillian Heath: Edward Frankland: Joshua Molloy: Samantha Boynton: Olivia Stackhouse: Sally Exelby:Ben Pattison: Annabel Hart: Stephanie Brennand.


Thanks to Sue Metcalfe for the 1989 & 1996 photos.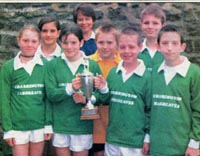 Champion Football team May 2000.Back Row. Mrs Lorie Heath. Middle row. Stephanie Brennand: Unknown: Tim Patterson.Front Row. Emma Pybus: Annabel Hart: David Libera: Jack Richmond.



If you can fill in the blanks please let me know. Updated Oct 2017.