ARP wardens and other volunteers.
ARP wardens and other volunteers in Yorkshire villages. As shown on the 1939 register.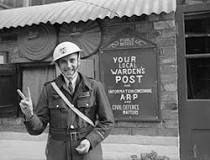 In September 1935, four years before WW2 began, British prime minister, Stanley Baldwin, published a circular entitled Air Raid Precautions (ARP) inviting local authorities to make plans to protect their people in event of a war. Such plans included building public air raid shelters.
In April 1937 the government decided to create an Air Raid Wardens' Service and during the next year recruited around 200,000 volunteers. These volunteers were know as Air Raid Precaution Wardens.
From the 1 September 1939 a small percentage of ARP wardens were full-time and were paid a salary (£3 for men, £2 for women), but most were part-time volunteers who carried out their ARP duties as well as full-time jobs.
ARP Wardens in Grewelthorpe.
ASCOUGH LENA. Virginia House. Dressmaker.
LEATHLEY FRANK. Painter & Dec.
TAYLOR FRANK. Post Office Sub postmaster.
ANTHONY STELLING. Hackfall hse. Postman & smallholder.
RYDER MABEL. Cook.
STELLING LILY. Hackfall Hse. Housekeeper.
TRENHOLME WILLIAM. South View. Butcher & Farmer.
As well as ARP wardens there were members of the Home Guard or Local Defence Volunteers.
Photos of these volunteers from Kirkby Malzeard & Grewelthorpe can be found on this site under "War Time in Grewelthorpe."
ARP Wardens. in other villages.
ATKINSON PERCY. Glasshouses. Manager at Rope & Twine works. [senior warden].
ATKINSON THOMAS. Masham. Carpenter & Joiner.
BALL ALFRED. Post Office Ellingstring. Retired army officer.
BARKER GEORGE. Fearby Woodman.
BARKER NORMAN. Pateley Bridge. Lorry driver.
BEALE TOM. Swinton. Chauffeur.
BEAUMONT VERA. Kirkby Malzeard butcher shop. Business assit.
BINKS NORMAN. Ilton. Permanent way labourer.
BLAKEBOROUGH EDITH. Fellbeck. [First aider].
BODDY FRANCIS. Glasshouses. Maintenance mechanic at Rope works. [rescue & demolition].
BRIGHT-BETTON HENRIETTA.. Crakehall House. Private means.
BROWN FREDERICK. Masham . Bank Manager.
BRUCE CHARLES. Masham Post Office. Postmaster.
BULMER EDWIN. Kirkby Malzeard. Water engineer.
BULMER ROBERT. Bedale Farmer.
CARLING FRED. Fearby Cross. Gardener.
CARLING JOSEPH. Glasshouses. Lorry driver. [First aid ]
CAWTHORN GERALD. Masham Mill House. Auctioneer & Valuer.
CHADWICK CHARLES. Bewerley Pateley Bridge. Chauffeur & Gardener.
CLARKE EVA. Fellbeck. [first aider].
CRAWFORD BENJAMIN. Crakehall. Vicar.
DINNING ROBERT. Kirby Fleetham. [Demolition].
DUNN THOMAS. Glasshouses. Polisher Rope & Twine works.
ELLIS THOMAS. Ruskill Farm Ellingstring. Farmer.
FURBY GEORGE. Silver St. Masham. Insurance agent.
GILL HAROLD. Langthorne near Bedale. Ex service man.
GRAHAM FRED. Kirkby Malzeard Warren Lane. Farmer.
GRAINGER JOHN HENRY. Bedale. Farmer.
GREEN HAROLD. Bedale. Grocer in Kirkby Fleetham.
GREY SETH. Kirkby Malzeard Dairy manager.
GREY GLADYS. Kirkby Malzeard. Dairy.
HANDLEY HERBERT. Masham. Retired game . [deputy warden].
HARDISTY ARTHUR. Masham. Solicitor's clerk.
HENDERSON FELIX. Bedale. Postman.
HILL GEOFFREY. Crakehall. Winton Hse. Retired Lt.Col. Royal Artilliary. [Sen. Warden]
HILL JOSEPHINE. Crakehall Winton Hse.
HOBSON JOHN. Hackforth. Farmer.
HOBSON MAURICE. Kirkby Malzeard. Quarry worker.
HODGSON ROBT Wm. Crakehall. Draper. [First aid reserve].
HOLMES HAROLD. Glasshouses. overseer at Rope works.
HOLMES HENRY. School House Kirkby Malzeard. School Headteacher.
I'ANSON GEORGE. Crakehall. Roadworker. [ Rescue squad].
INGRAM FREDERICK. Innkeeper. Kings Head Inn. Fearby Cross.
JACKSON JOSEPH L. Swann Cottage Fearby.
JACKSON THOMAS. Crakehall. Painter.
JOPLING MARK. Bellfield Masham. Agricultural auctioneer & Valuer. [Head warden]
KIRBY SISTERS MAUD, ROSE & GEORGIE. Fencote House near Bedale. [Maud was commandant].
KIRBY WILLIAM. Bedale, Estate Labourer.
LAMBERT STEPHEN. Swinton. Farm horseman.
LUMLEY WALTER. High Ellington. Lorry driver.
MANNING FRANK. Bedale. Farmer.
METCALFE ERNEST. Masham. Road worker.
MILLWARD GEORGE. Pateley Bridge. Boot maker.
MOUBRAY ELLEN. Bedale. Killerby Hall.
MOYSES ALICE. Fellbeck. [First aider].
NETTLETON WALTER. Pateley Bridge. Gardener & Forester.
PARRATT JESSIE. Silver St. Masham. [ARP & Red Cross].
PANTING ROBERT. Crakehall. Chauffeur mechanic. [ARP Ambulance driver].
PECKITT WILLIAM. Pateley Bridge. Manager of quarry.
PINKNEY JOHN. Crakehall. Shop keeper.
PRIESTLEY LESLIE. Masham errand boy age 16. [arp messenger].
ROBINSON FREDERICK. Wilsill. Farmer & Butcher.
RYDER RICHARD. Glasshouses. Grocer.
SMITH FRED. Masham. Groundsman. [ARP First aid unit].
SMITH JOHN. Masham. Dispensing chemist assist. [ARP First Aid unit].
SPENCE FRANK. Fellbeck. Farmer. Wife Laura Spence was 1st aider.
STOREY WILLIAM. School House Healey. Moor shepherd.
TAYLOR JOSEPH. Pateley Bridge. Highway surveyor.
THWAITE JOHN. Park St. Masham. Postman.
TROTTER JOSEPH. Healey Farm worker.
TWEEDY ARTHUR. Bedale. smallholder.
VERITY RICHARD. College Grove Masham. grocer.
WEBSTER HAROLD. Crakehall. Roundhill Farm. Farmer.
WRAY JOHN. Pateley Bridge. age 17. council office clerk. [ARP Messenger].
WRIGHT HARRY. Swinton. Slaters labourer.
YOUNG JOHN. Masham. Headmaster of elementary school.
The War Reserve Police was introduced in 1939 and at the height of World War II in 1944 there were 17,000 war reserve constables. The rank was dissolved on 31 December 1948, causing 686 officers to be discharged from service, and the remainder being recruited for service as a regular or special constable.




.Special Constable badge.
Special Constables.
ALEXANDER REGINALD. Bewerley Old Hall. Pateley Bridge. His wife Mary was a dispatch rider.
AUTON THOMAS. Thornton Watlass. Carpenter.
BENSON NEESOM. Healey. Engine man. sawmill.
BEWLEY GLAISTER. Masham. Retired Police Sgt. 1st police Reserve.
BINKS WILLIAM. Masham Brewers Wagon driver.
BOLTON CLARENCE. Masham. Labourer.
BRADLEY ALFRED. Crakehall. Gardener.
BRAYSHAW GEOFFREY. Silver St. Café & shop. Masham. Grocer & Baker. [member of food control com].
BROADLEY JOHN. Masham. Flour Miller's Rep.
BROWN WILLIAM. Crakehall Public works contractor.
BURROWS VICTOR. Swinton. Chauffeur mechanic.
CRADDOCK ROBERT. Pateley Bridge. Quarrier.
DAVIES STEVEN. Fell end Crakehall. Blacksmith.
DICK RONALD. Anna Garth Farm Great Fencote. Farmer.
DRIVER FRANK. Swinton. Estate clerk.
DUNKLEY JOHN W. Fearby . Forester.
ELGIE ALBERT. Langthorne near Bedale. Farm worker.
ELLIS TOM. Healey. Farmer.
FAWBERT GEORGE W. Ellingstring. Small Holder.
GIBSON THOMAS. Masham. Grocery Traveller.
HACKNEY HENRY. Glasshouses. Batcher at mill.
HAGUE RONALD. Silver St. Masham. Clerk
HATHAWAY JAMES. Swinton Gardeners House. Head gardener.
HARRISON JAMES. Masham. Cheese & Butter factor.
HILL WILLIE. Silver St. Masham. Smallholder.
HORTON HUBERT. Kirkby Malzeard parsonage. Vicar.
IMESON JAMES. Alburgh Masham. Chauffeur,
JEFFERSON JOHN. Market Place Masham. Tinsmith.
LANDELLS JOAN. Swinton Estate Office. School matron.
LAWSON WILFRED. Masham. Draper.
LEATHLEY GEORGE. Market Place Masham. Master Tailor.
LOCKWOOD HARRY. Masham. Maltster.
LONGSTER JOE. Pateley Bridge. Motor engineer.
LUMLEY WILLIAM M. Fearby. Farmer.
LYALL JAMES. Hackforth. Head Schoolmaster.
METCALFE ARTHUR. Fearby. Mason.
MORTON WILLIAM. Masham. Gardener.
MURFIN JAMES. Langthorne near Bedale. Highways lengthman.
PEACOCK HENRY. Bedale. North low Fields Farm Kirby Fleetham. Farmer.
PHILLIPS THOMAS. Masham. Café & Bakery manager.
RAMSDEN EDGAR. Bewerley Pateley Bridge. Retired police officer.
RAW ERNEST. High Ellingstring. Blacksmith.
RAW JOHN. Low Ellingstring. Farm Lab.
ROBERTS. C.D.A. Masham. Retired electrical fitter.
ROBINSON RAYMOND. Crakehall. Head Cowman.
SEAMAN WILLIAM. Warthermarske. Gardener. Full time Special Const.
SMITH MARK. College lane Masham. Masons Lab.
SWIRES JOHN. Glasshouses. Shoemaker.
TENNANT HARRY. Park St. Masham .Draper.
THEAKSTONE ROBERT. Bellfield Masham. MD of Brewery.
THOMAS HORACE. Great Fencote near Bedale. Retired civil engineer.
THORPE JOHN. Hazel House. Miller.
TOWLER ALBERT. Ellingstring. Farmer.
VEITCH ETHEL. Swinton Mansion. School vice principal.
VERITY HORENZO. Ellingstring. Farmer.
WARD HAROLD. Swinton. Master plumber.
WALKER JIM. Pateley Bridge. Quarrier.
WALKER THOMAS. Market Place Masham. Fish shop owner.
WILKINSON FRED. Sutton Penn Masham. Farmer.
WILSON JAMES. Warthermarske. Gardener.
WILSON JOHN. Crakehall. Farmer.
WILSON THOMAS. Masham. Painter & Decorator.
WOOD CHARLES. Colsterdale. Farmer.
WOOD WILLIAM. Kirkby Malzeard Prospect Hse. Builder.
WRAY WILLIAM. Pateley Bridge. Grocers Rep. [section leader.].
WRIGHT GEORGE. Colsterdale. Farmer.
WRIGHT ROBERT. South Fencote. Miller.
WYNN ARTHUR. College Lane Masham. Cattle food agent.
YOUNG DAVID. Hackforth. Post office. Postmaster & Grocer.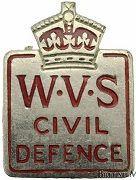 WVS Badge.


Womens Voluntary Service.
BAKER ELSIE. Masham. School teacher.
BRADFORD KATE. Swinton Estate. Domestic.
BRUCE DOROTHY. Post Office Masham. [Billeting officer]
ELLIS EVELYN. Ruskill Farm Ellingstring.
GARNETT KATHLEEN. Fellbeck.
JOPLING LILIAN. Bellfield Masham. [Billeting officer].
THEAKSTONE ALICE. Bellfield Masham. Wife of Brewery MD.
Nursing Auxiliary Service.
ALTON BESSIE. Masham. Domestic help.
BEASLEY MARJORIE. Masham Sweet shop assistant.
ELSWORTH BEATRICE. Swinton Mansion. Private secretary.
GAUKROGER WINIFRED. Healey. Domestic.
ROBERTSON JEAN. Masham. Children's Nurse.
British Red Cross.
BEALE GEORGINA. Swinton Domestic.
BROADLEY DOROTHY. Masham.
HOLLAND DORA. Masham. [Commandant of BRC].
ROBSON WINIFRED. Swinton Estate. Housemaid.
McINTYRE ELLEN. Crakehall. Bridge Hse. [ARP Reserve].
TENNANT LAURA. Masham . Domestic.
TENNANT MARGARET. Masham Drapers shop assistant.
WALKER MARGARET. College Lane Masham.
Ambulance Driver.
CUTTS JESSIE. Crakehall. Chauffeur Mechanic.
DUFFIELD EDWIN. Post Office Swinton. Chauffeur & Gardener.
HUNT CHARLES. Fellbeck. Chief engineer at woollen mill.
St. John Ambulance.
ATKINSON JOYCE. Pateley Bridge. Textile baller & Packer.
PEACOCK CHARLES. Masham. Maltster.
WALKER GEORGE CHARLES. College Lane Masham. Railway porter.
Voluntary Stretcher Bearer.
HINES STANLEY. Crakehall. Butler.
Voluntary Aid Detachment.
The Voluntary Aid Detachment (VAD) was a voluntary unit of civilians providing nursing care for military personnel in the United Kingdom.


LADY CYRILLA SMITH-DODSWORTH. Thornton Watlass Hall Ripon.
Civil Defence Service.
MANTON HERBERT. Healey. Caretaker of waterworks.
Auxiliary fire Service.
BURTON VICTOR. Masham. Joiner & Wheelwright.
PAPE MATTHEW. Crakehall. Painter & Dec.
TIFFNEY HAROLD. Silver St. Masham. Nightwatchman.
THACKRAY FREDERICK. Wath. Head teacher.
Observer Corps.
ANSON GEORGE. Masham. Maltsters Clerk.
FORBES STUART. Masham. Malt roasting motor driver.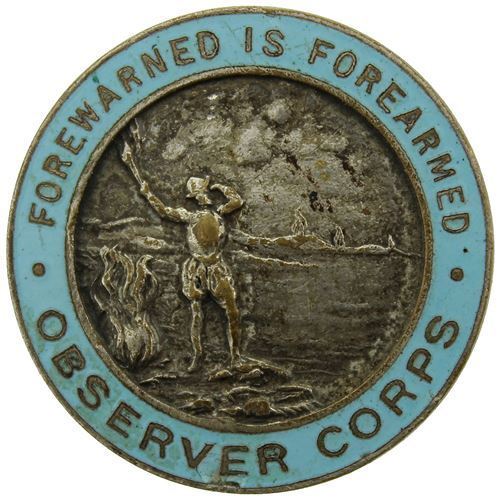 Observer corps badge.


Sea Cadet Corps.
STONE NOEL. Masham. Harrogate College Bursar.
Research started Feb. 2019.
If anyone has any stories about volunteers in the war. Please get in touch.
Comment