Roll of Honour WW1
A Scrap of Paper
Inside St. James's Church, Grewelthorpe there is a framed document called "The Scrap of Paper"
It is a Roll of Honour of men who have answered their country's call in defence of a Scrap of Paper.
It then goes on to explain.This document is a translation and facsimile of signatures from the original treaty of 1831 guaranteeing the independence and neutrality of Belgium, which was confirmed by the six powers in the famous treaty of 1839, the breaking of which by Germany is responsible for the present war with the British Empire. "The Scrap of Paper" Article Her Majesty the Queen of the United Kingdom of Great Britain & Ireland. His Majesty the Emperor of Austria, His Majesty the King of Hungary & Bohemia. His Majesty the King of the French. His Majesty the King of Prussia. His Majesty the Emperor ofall the Russias. Declare that the Articles mentioned in the preceding Article, are considered as having the same force and validity as if they were textually inserted in the present Act and that they are thus placed under the guarantee of their said Majesties. Article VII Belgium within the limits specified in Articles I, II and IV shall form an independent and perpetually neutral state. It shall be bound to observe such neutrality towards all other states. This document was signed by:-Palmerston. British Plenipotentiary. Sylvan Van De Weyer. Belgium Plenipotentiary. Senfft. Austrian Plenipotentiary.H. Sebastiani. French Plenipotentiary. Bulow. Prussian Plenipotentiary. Pozzo Di Borgo. Russian Plenipotentiary.The document then lists all the Grewelthorpe men and women who served in WW1.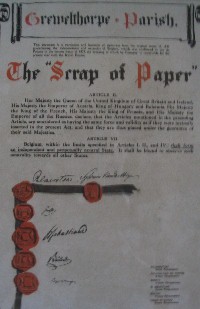 Killed.
Leathley Wm.G. 2nd Lieut. Som. L.I. , 1915.
Wounded. Brown Robert E. Sergt. C.F.A. 1915
Cookshaw Arthur. , C.R.H.A. 1914
Hammond John T. , West Yks. 1916.
Moore Archibald Durham L.I. 1914
Thwaites Herbert. Man. Regiment. 1916
Waite Fred. Middlesex Regt. 1917.
Walmsley Joseph H., West Yks. 1916


Of these men, the 1901 census tells us that Herbert Thwaites was born in 1890 and was the son of Joshua Thwaites [stonemason] and Ann. Living in Kirkby Malzeard.Fred Waite was born 1899 in Grewelthorpe. Son of John Waite[Roadman] and Ellen.


Also Served.
Ashby Percy. M.G.C. 1916
Ashby Robert M.G.C. 1916
Ashby William , R.F.A. 1917
[These 3 boys were sons of Anthony Ashby [Stone Waggoner] & Hannah.Atlay
Thomas H. R.V.A.S. 1916.
Batty Fred. West Yks. 1916
.[Fred was born 1899. Son of Fred & Eugenie of G/Thorpe]
Baul John W. , West Yks. 1918
[John was son of Bertha Baul of Grewelthorpe]
Brown Chas. M. ,Sergt.RGA 1917
Brown Donald T. R.E. 1915
Brown Henry G. ,[M.C.] Lieut R.E. 1914.
[The 3 Brown boys were the sons of Joseph Brown & Mary of Markington.]
Coldbeck Lawrence. Sergt RAF 1916.
Cooke Frederick. R.F.A.
Dale Ernest. R.A.S.C. 1915.
Frankland Robert R.F.A. 1916.
Gale Frederick. , West Yks. 1914.
Gale George. , R.F. 1916
Gale Thomas. , West Yks. 1916.
Hartley Harold C. R.A.S.C. 1914.
Hewson Albert. Sergt. West Yks. 1914
Hewson Fred. , Cold S. Guards 1914
Jackson Fred. Corpl.R.F.A. 1916
Jackson Joseph. Corpl. R.A.S.C. 1916.
Jackson Thomas H. R.A.S.C. 1916
Lancaster Robert. Hussars 1917
Leathley Cyril. R.N.
Lofthouse Geo. H. R.F.A. 1914
Mallaby Thomas.
Martin Arthur R. , Sergt.R.G.A. 1916
Metcalfe George , West Yks. 1916
Pickles Joseph , Norfolk Regt. 1917
Stelling Anthony R.F.A. 1915
Thackray George K.O.Y.L.I. 1918
Thompson Thos. West Yks. 1918
Turner John R.C.A. 1917
Turner Robert R.C.A. 1916
Nursing Service
Taylor Rose T. V.A.D.
Hardcastle Hilda V.A.D.
How Lieutenant H. G. Brown won the Military Cross.
The following is the official account of the services for which the Military Cross was awarded to Lieutenant H.G.Brown, fifth son of the late Mr. Joseph Brown of Hill House, Fountains, Ripon and Mrs.Brown, The Green, Grewelthorpe. "For conspicuous gallantry and devotion to duty at Essorts, April 3rd 1918. The headquarters of the Brigade, the signal section of which was commanded by Lieut. Brown , was shelled constantly throughout the day. In spite of this Lieut. Brown succeeded in maintaining communications both forward and to the rear. He displayed most conspicuous gallantry in supervising the work of his section under heavy and continuous shellfire, on many occasions himself repairing the broken wires. Never throughout the day did he consider the enemy's fire or his own personal safety, so long as his command stations were complete.