The Aislabie Walk
There's a new themed walk that passes through Grewelthorpe called the Aislabie Walk. For more detailed information about the Aislabie Walk vist the website.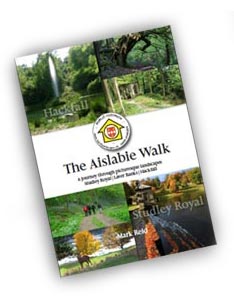 A couple of years ago, Paul Mosley, the Hackfall Officer mentioned an idea. A footpath joining the wonderful landscapes created by the Aislabie's in North Yorkshire. The walk was to go from Studley Royal and Fountains Abbey and head North to Hackfall. The walk that Paul suggested has now blossomed into a circular route that starts at the the Lakeside Car park in Studley Royal and takes in some wonderful scenery around the Abbey, Laver Banks, Galphay, Braithwaite Hall and Hackfall before heading South via Mickley Barras, Azerley and Galphay Mill. The whole route is 17.5 miles long but there are cross paths that allow you to do a shorter circuit and of course it is possible, some would say preferrable to start in Grewelthorpe before heading South.
Mark Reid the author of The Inn Way has researched and described the route in a free guide book. You can download a copy here: Aislabie Walk Guide be aware that it is a 2 megabit file but well worth the wait.