A poem
A Voice From Hackfall James Casmey, Nail Maker, Gruelthorpe. May 1859
Welcome thrice welcome, stangers all,
That visit me the famed Hackfall
Yea, welcome as the bloom of May
To celebrate our Gala Day
Welcome art thou O aged sire
Whose silvery locks all must admire,
And thou fair matron by his side,
His helpmate on life's stormy tide!
And manly youth and blooming maid,
Thrice welcome to our woodland shade,
Where stands the veteran oak,
That long has stood old tempest's stroke,
Also the stately ash you'll see
With arms outstretched to welcome ye
To view Dame Nature's works of art,
Which you'll find here in every part,
Mix't with the handy work of man
Upon a grand romantic plan.
You'll find not far down in the glade
The Alum Spring, a grand cascade,
Whose silvery stream appears to sing
An anthem to the bloom of Spring.
And on its rippling harp to play
A welcome to our Gala Day.
Now turn thy steps towards the right,
And view that grand imposing sight
Tis Mowbray Castle, in decay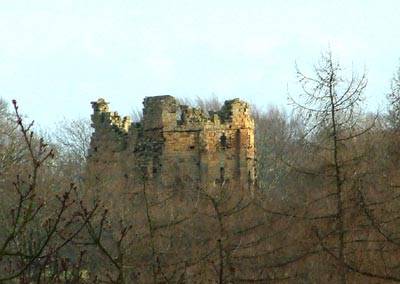 The relics of a bygone day,
Whilst shelving rocks on which it stands
Look awful, yet majestic grand,
If that old castle could unfold
The deeds it witnessed of old
No doubt to what it would give vent,
Would fill us with astonishment
But as it can't we'll pass along
Whilst songsters welcome you with song
And squirrels on the branches play,
Their frolics on our Gala Day
Let Sand Bed Hut attention call,
From thence pass on to Fishers Hall,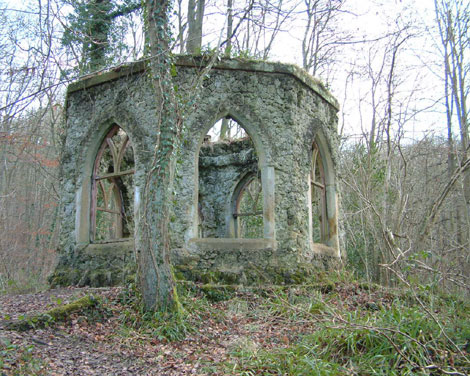 And Lime House Hill you'll find a treat,
Then rest awhile on the green seat
Where river Ure comes rolling by
In silver vested majesty.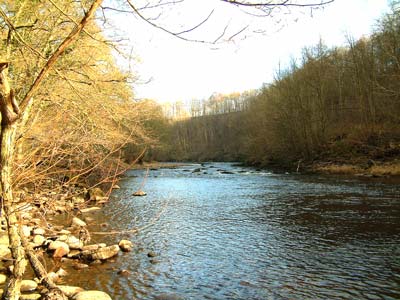 Next at the splendid Grotto call,
In front of the Great Waterfall
Whose crystal stream with brilliant crest,
Flows gleeful from Dame Nature's breast,
And sings it's little child like song
As joyfully it rolls along.
Now here we must stop once again
To view the pretty Fountain Plain,
Where if you had the mind and will
And music, might dance a quadrille,
And when you're weary of the dance,
Behold now what a charming chance
To rest, the rustic temple neat
Is here, where you can have a seat,
And when recruited, once again
We'll pass along unto Tent Plain
Lo here the Weeping Rock appears,
Showering forth her crystal tears,
Let not her tears your sports annoy,
Perhaps she weeps but tears of joy
To help to wash dull care away
From Hackfall on our Gala Day.
But here's Mount Pleasant just in view
A place more pleasing far to you,
But at a proper distance keep,
Nor try to jump the Lover's Leap.
To Mowbray Point at last we've got,
A very interesting spot,
As here you stand for miles you see
A very charming scenery.
Of miles of rich and fertile land,
All variegated and most grand:
Hambleton's Hills from here you view
And famed Roseberry Topin too
Tanfield and Kirklington you'll see,
With Pickhill also Baldersby,
York Minster too tho' far away,
Is seen here on a clear day.
Now friends look around you till you tire,
And then there's one thing I desire,
That's if you'll be advised by me
To go and take a cup of tea,
And with some friendly neighbour talk,
About each Spring and Zig-Zag walk,
Of Castle bold and Grotto neat,
And thank LORD RIPON for the treat
Pray that his Lordship may have health
To live and taste the sweets of wealth,
And that his Lady long may be,
Sharer of his felicity.
Whilst their dear children try to bless
The noble pair with happiness.
Now in conclusion, let me say,
I hope you've past a happy day,
So now goodbye, yea, one and all,
Whilst I am truly yours, HACKFALL
Biographical notes.James Casmey was born in the East Indies about 1813.In 1851 he was living in Aldborough near Boroughbridge and in 1861 he was there with his wife Elizabeth nee Archer who he had married in 1838. He was a journeyman nailmaker. At that time he had 4 children. Jane aged 11yrs. Mary aged 8yrs. William aged 3 and Charlotte Eliza 9 months. A previous child James had died aged 5yrs in 1855. In 1871 he had moved to Staincross Common, Darton, Barnsley and he was still there in 1881, still a nailmaker. He died in Brighouse on 24.12.1886.