St James Church
St James's and the Methodist Church, Grewelthorpe
A Local Ecumenical Partnership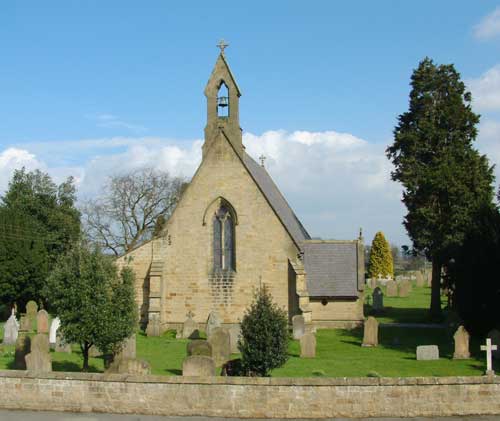 St James's and the Methodist Church, Grewelthorpe
A Local Ecumenical Partnership
Grewelthorpe's Church is shared by Anglicans and Methodists and is a Local Ecumenical Partnership. We are one of the seven churches in the Fountains Benefice and part of the Ripon and Lower Dales Methodist Circuit.
To see more details of current events please follow the link to Grewelthorpe's What's On page
Services are held at 11.00am each Sunday morning and we do welcome visitors to join us. On the last Sunday of the Month there is a United Benefice Service which is always held at 10:30am and is held at a different church in the Benefice each month. See the Fountain magazine for details of each location. If you are new to the village, please come and make yourself known to us. Copies of 'The Fountain' and 'The Circuit magazine' can be found in the church. These magazines give details of all the services in both the Benefice and the Methodist circuit.
United Benefice Services are held monthly at 10:30am.
Once a month we have a meeting of the G Club which is for children of primary school age. It is held on a Wednesday evening between 6 and 7pm. It is lots of fun and linked to a biblical theme.
Church Contact details:-
Methodist Minister:- Rev'd Pat Malham
Rector: Ian Kitchen Tel 01765 650369
Email
The Rectory, Rigbeck Road, Kirkby Malzeard HS4 3SL
Churchwarden, Mrs Lynette Barnes: Tel 01765 602838, Mrs Ann Dant Tel 01765 658700
Secretary to the Church Council: Mrs Judith Beresford Tel: 01765 658098
Baptisms, weddings or funerals can be arranged either in Anglican or Methodist rites by making contact with the appropriate member of the clergy.
Please use the church as a place for personal prayer or for your own quiet reflection. Members of the congregation will willingly pray for anyone who is ill or who would like to be prayed for. The person can be added to the Benefice prayer list or, if preferred, the Grewelthorpe prayer list. There is also a prayer board at the back of church for people to place their own prayers and these can be anonymous.
Members of the clergy and some church members are always available to discuss or to listen to people's enquiries about faith, or other issues or concerns and these will be treated confidentially if this is your wish. For those unable to attend church through sickness or caring duties do please let us know and arrangements can be made for either communion to be brought to you or visits arranged.
We want to protect your privacy and have produced a General Privacy Notice.
General Privacy Notice Download
Consent Form Download
We would like to keep in touch with you to communicate Church events and general information. Please complete the form and we will follow your instructions when we communicate with you. Send your completed form to the secretary
Safeguarding is very important to us. Please see the details below for our Safeguarding Contacts.
You can download the Safeguarding document here:
Safeguarding.pdf
The Parish Magazine is called the Fountain and the editor can be contacted by email.
There are published details of the current Rector and their contact details here
History of the Church in Grewelthorpe
Grewelthorpe Church, as much a part of this village as the school or the pub. Set in a grassy churchyard where many residents of Grewelthorpe have found their last resting place 'may it never change and yet it was not always so.
Down the centuries, people from Grewelthorpe had to make their way to Kirkby Malzeard to attend church: Sunday Services, weddings, baptisms or funerals, all required the walk through the fields or journey by horse-drawn cart for the one and a half miles to KM's very old, historic church.
In the early years of Queen Victoria's reign, an up-swell of independence flowed through the veins of Grewelthorpe's church-going population and a church of their own was proposed. It may have been the arrival of Methodism and the building of many village chapels which created this ambition in Anglican hearts but in common with many other villages up and down the country, Grewelthorpe built its own church. A field called Street Close was obtained from its owner, Mrs Elizabeth Sophia Lawrence of Studley and in 1846 the Church was consecrated and dedicated to St James.
During the building of the church there was a terrible accident which was recorded in The York Herald Jan. 24 1846.[Researched by Barbara Bradley].
A subscription was launched for John Brown. the son of Robert Brown of Hill House Farm near Ripon.
A young man who, in June last, suffered so severe an accident whilst leading wood for the church in the course of erection in Grewelthorpe, in the Parish of Kirkby Malzeard. The leading of materials for this church was kindly given by the farmers of Grewelthorpe and the neighborhood. but the joiners work being let to Mr Demain of Markington, the farmers of that district also kindly volunteered each to take a load of wood, and it was on the return home of 3 of the teams which had been leading timber, that the accident occurred. No blame whatever was attached to young Brown, who was together with Demain driving steadily in the 1st cart.
The horses in the last cart took fright from some cause or other, and passing the 2nd team came into contact with Brown's. The consequence was the death of 1 of Mr. Robinson's horses, a severe injury to one of Brown's, whilst Demain was much bruised, and young Brown had both legs dreadfully smashed. The amputation of one was rendered necessary the same evening. After an appeal by Rev Wilson the Earl of Ripon subscribed '10 a year for the support of Brown. It is understood The Earl de Grey also intends to render assistance to Brown. Also other benevolent individuals subscribed. Compensation was paid to Robinson for the loss of his horse and all Browns expenses were paid by the late Mrs Lawrence.
Since then it has seen generations of families who have worshiped here and enhanced the building with gifts of many kinds. Almost everything within the church was given by parishioners past and present.
Until 1982 we had our own vicar who lived with his family in the vicarage (now a private house) but now we are part of the Fountains Benefice. This is a team of seven churches with an Area Rector in charge who formerly lived in Winksley. A new Rectory is now planned and being built in the village of Kirkby Malzeard.
The Methodist Chapel, further down the village, was also a much loved and well supported place of worship. In more recent years, however, support declined and the chapel closed in 2003, then a whole new chapter of history was opened when the Anglican and Methodist churches in Grewelthorpe decided to come together and form an LEP, a Local Ecumenical Partnership. Since then we have shared services in the church of St James. The arrangement is a good one as it brings together the worshiping communities in this village.