Hackfall
Hackfall can be found at the Masham end of the Village. John Aislabie bought the land for £906 in 1731, already famous for his landscaping work at nearby Fountains Abbey and Studley Royal.
His son William Aislabie turned the area into a 'beautiful wilderness' to quote one of the 19th century writers who thought this woodland one of the most beautiful in the country.
William built follies, many of which can still be seen. He also created grottoes, surprise views and waterfalls.
Turner the artist painted in the woods and his sketches and paintings of Hackfall are carefully stored in special conditions in an archive in the Wallace Collection
Nicholas Thomas Dall did a very nice pencil and watercolour here in 1766 which is now stored at the Tate
Victorian visitors flocked to the area and William Wordsworth mentioned Hackfall Wood in one of his guides for tourists. There are three approaches to the Lakes through Yorkshire; The second road leads through a more interesting tract of country, beginning at Ripon, from which place see Fountain's Abbey, and thence by Hackfall, and Masham, to Jervaux Abbey, and up the vale of Wensley; turning aside before Askrigg is reached, to see Aysgarth-force, upon the Ure; and again, near Hawes, to Hardraw Scar, of which, with its waterfall, Turner has a fine drawing. Thence over the fells to Sedbergh, and Kendal.
Teas were served at Mowbray Point, which it is believed was called the Banqueting Hall by the Aislabies who used the folly to entertain their friends.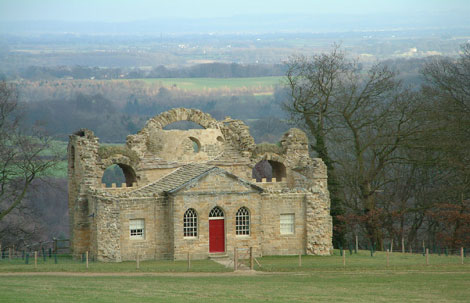 Country Life published an article in 2003 which suggests that the design of the folly may have been plagarised from a painting by Robert Adam. There is a picture of the unrestored building in this article together with Adam's painting. The building has been renovated and can now be hired for holidays from the Land Mark Trust.
There's a nice description of Hackfall from 1822 here
The woods (aerial photograph) went through a period of decline and many of the footpaths were damaged during wartime logging operations. Nature took over and it was feared that it would be lost forever.

But the Woodland Trust and the newly formed Hackfall Trust came to the rescue in the 1980s, cleared out the dead wood, managed the trees, restored many of the footpaths, always with nature conservation in mind. Hackfall is now a Grade 1 listed garden.
Visitors are once again welcome to explore Hackfall Woods , with car parking off the Masham Road and entry is now free.